View Your Case Analysis Report Now!
Instant, Secure, No cost/No obligation Analysis of Your Lawsuit.
TruLaw and our partner law firms have successfully collected over
$3 Billion

through verdicts and settlements on behalf of injured individuals in all 50 states.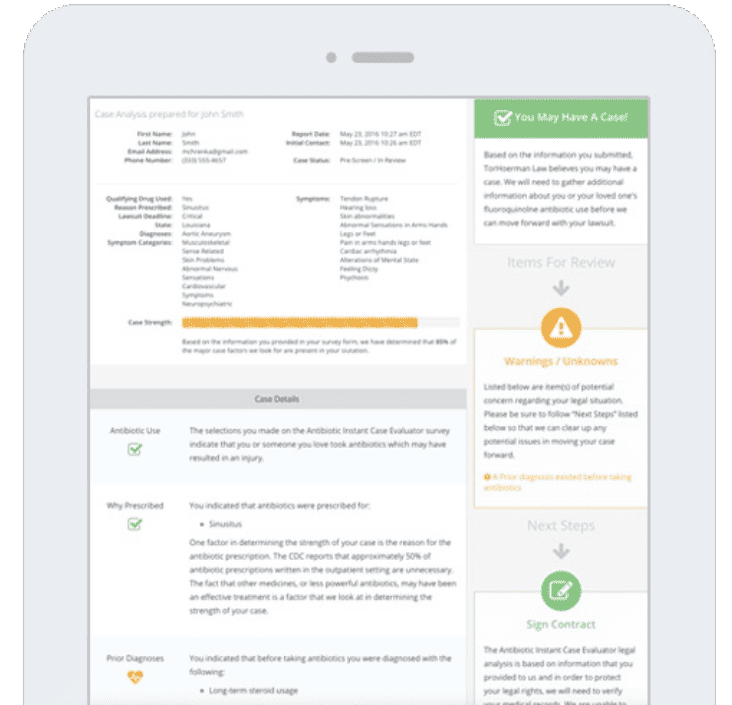 Your Report Will Show You
✓ If you have a case
✓ Strength of case
✓ Eligibility information for your state
✓ Filing timeframe information
✓ Potential problems with your case
About TruLaw
Jessica Paluch
Founder, Attorney and Advocate, TruLaw
I am a mother, a daughter, a wife and friend and I am also a lawyer who has made a career fighting large corporations on behalf of individuals who were harmed by dangerous drugs and medical devices through no fault of their own. TruLaw works with lawyers that have achieved more than $3 billion in successful verdicts and settlements on behalf of injured individuals. I invite you to use my secure, no cost or obligation Instant Case Evaluator to help you determine if you should protect your legal rights.
Testimonials
Thank you for your professional assistance. It was a long and unsure journey that in the end proved the principal reason for the case. Thank you for your advice and assistance in my father's case.
Kevin, CA
I would like to thank your firm for the personal and professional services you provided my family after the tragic loss of our mother. The comfort of knowing that the horrible circumstances that led to her death will never cause another to suffer has certainly put us at peace.
Annette, AL
Put your trust in TruLaw and everything will work out fine for you. People have to understand that they have to be an advocate for themselves and the people they love.
Janice, NJ
TruLaw supports clients in all 50 states and the District of Columbia including Alabama, Alaska, Arizona, Arkansas, California, Colorado, Connecticut, Delaware, Florida, Georgia, Hawaii, Idaho, Illinois, Indiana, Iowa, Kansas, Kentucky, Louisiana, Maine, Maryland, Massachusetts, Michigan, Minnesota, Mississippi, Missouri, Montana, Nebraska, Nevada, New Hampshire, New Jersey, New Mexico, New York, North Carolina, North Dakota, Ohio, Oklahoma, Oregon, Pennsylvania, Rhode Island, South Carolina, South Dakota, Tennessee, Texas, Utah, Vermont, Virginia, Washington, West Virginia, Wisconsin and Wyoming.
TruLaw and our partners firms work with individuals in all cities including Albuquerque, Anaheim, Anchorage, Arlington, Atlanta, Aurora, Austin, Bakersfield, Baltimore, Baton Rouge, Birmingham, Boise, Boston, Buffalo, Chandler, Charlotte, Chesapeake, Chicago, Chula Vista, Cincinnati, Cleveland, Colorado Springs, Columbus, Corpus Christi, Dallas, Davidson, Denver, Detroit, Durham, El Paso, Fort Wayne, Fort Worth, Fremont, Fresno, Garland, Gilbert town, Glendale, Greensboro, Henderson, Hialeah, Honolulu, Houston, Indianapolis, Irvine, Irving, Jacksonville, Jefferson, Jersey , Kansas , Laredo, Las Vegas, Lexington-Fayette, Lincoln, Long Beach, Los Angeles, Louisville, Lubbock, Madison, Memphis, Mesa, Miami, Milwaukee, Minneapolis, Nashville, New Orleans, Newark, Norfolk, North Las Vegas, Oakland, Oklahoma, Omaha, Orlando, Philadelphia, Phoenix, Pittsburgh, Plano, Portland, Raleigh, Reno, Riverside, Sacramento, San Antonio, San Bernardino, San Diego, San Francisco, San Jose, Santa Ana, Scottsdale, Seattle, St. Louis, St. Paul, St. Petersburg, Stockton, Tampa, Toledo, Tucson, Tulsa, Virginia Beach, Washington, Wichita, Winston-Salem, and New York City.