---
Was I Exposed To Gadolinium In A Recent MRI?
According to the Organization for Economic Cooperation and Development, 38 million MRI imaging exams are performed in the U.S. each year. 30% of those exams utilize a Gadolinium-based contrast agent (GBCA) – exposing 11.4 million U.S. citizens per year to Gadolinium.
Gadolinium-based contrast agents are used with medical imaging devices called MRI (Magnetic Resonance Imaging) scanners to examine the body for problems such as cancer infections or bleeding.  These contrast agents are injected into a vein to improve visualization of internal organs and it helps to diagnose medical conditions.
The market for contrast agents is expected to reach $5.53 billion by 2022. It is imperative that U.S. GBCA risk studies continue to move forward in the U.S.
When used on individuals with normal kidney function, GBCAs have been assumed to be eliminated from the body through the kidneys.  But, recent studies may contradict that assumption.
Complications after your MRI could be from Gadolinium Exposure
Get Instant Online Analysis Now!
Studies Lead To Warnings And More Questions
Since September 2010, the FDA has required that gadolinium-based contrast agents (GBCA) carry a warning on their label about the risk of Nephrogenic Systemic Fibrosis (NSF) when administered in individuals with kidney disease.
NSF is a disease of fibrosis of the skin and organs.   Fibrosis is characterized by a thickening or hardening of the skin and most often appears in the arms and legs.  NSF diagnosis have decreased substantially since MRI/MRA protocol have required kidney testing prior to using gadolinium as a contrast agent.
In 2014, Japanese scientists reported gadolinium was found in the brains of deceased patients who never had kidney disease.  This study led to the finding that a small quantity of gadolinium will remain in the patient for an indeterminate amount of time, regardless of renal function.
---
Gadolinium Deposition Disease (GDD)
As a result of these studies, a new disease referred to as gadolinium deposition disease (GDD) was identified.
GDD appears to have similar, but less severe, symptoms than NSF, including:
Persistent headache
Bone pain
Joint pain
Subcutaneous soft tissue thickening (skin that appears spongy or rubbery)
Tendons and ligaments are painful and have thickened
Tightness in hands and feet
Pain described as burning, cutting, or pins and needles in the arms, legs or torso.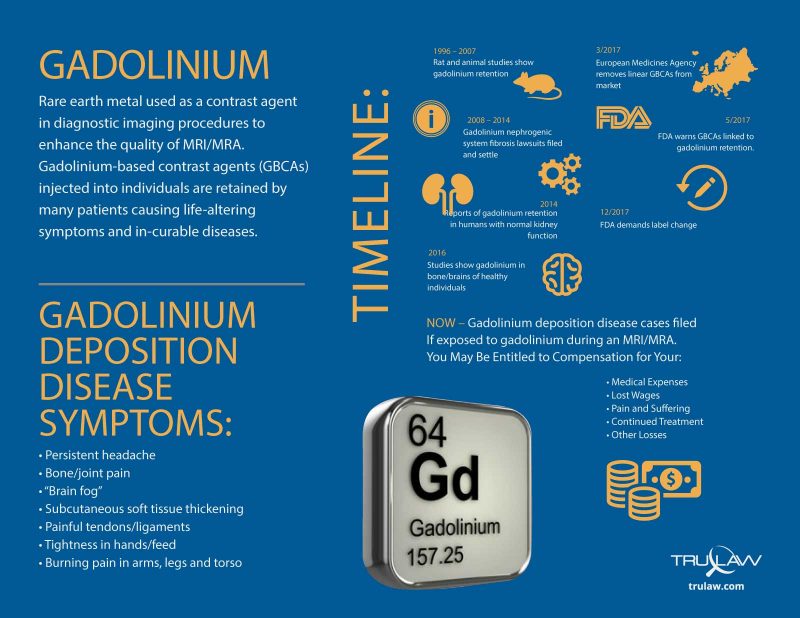 GDD symptoms appear anywhere from a few hours to a few weeks after injection with a GBCA and generally requires diagnosis through a urine test.
In June 2015, the Mayo Clinic found direct evidence of gadolinium deposition in brain tissue during the autopsies of individuals who had MRIs prior to donating their bodies to medical research upon death.
Further research has led scientists to consider whether there are safer GBCAs.  This was the approach taken by the European Medicines Agency (EMA) during a study of gadolinium deposition in the brain and other tissues.  In July 2015, this study led to the suspension of linear gadolinium agents including Magnevist, Multihance, Omniscan, and Optimark.
The FDA is still studying the effects of gadolinium and has not yet suspended the use of any of the GBCAs.  However, on December 19, 2017, The FDA issued a safety alert to the public and now requires a warning to be shared with all patients about the risk of gadolinium retention.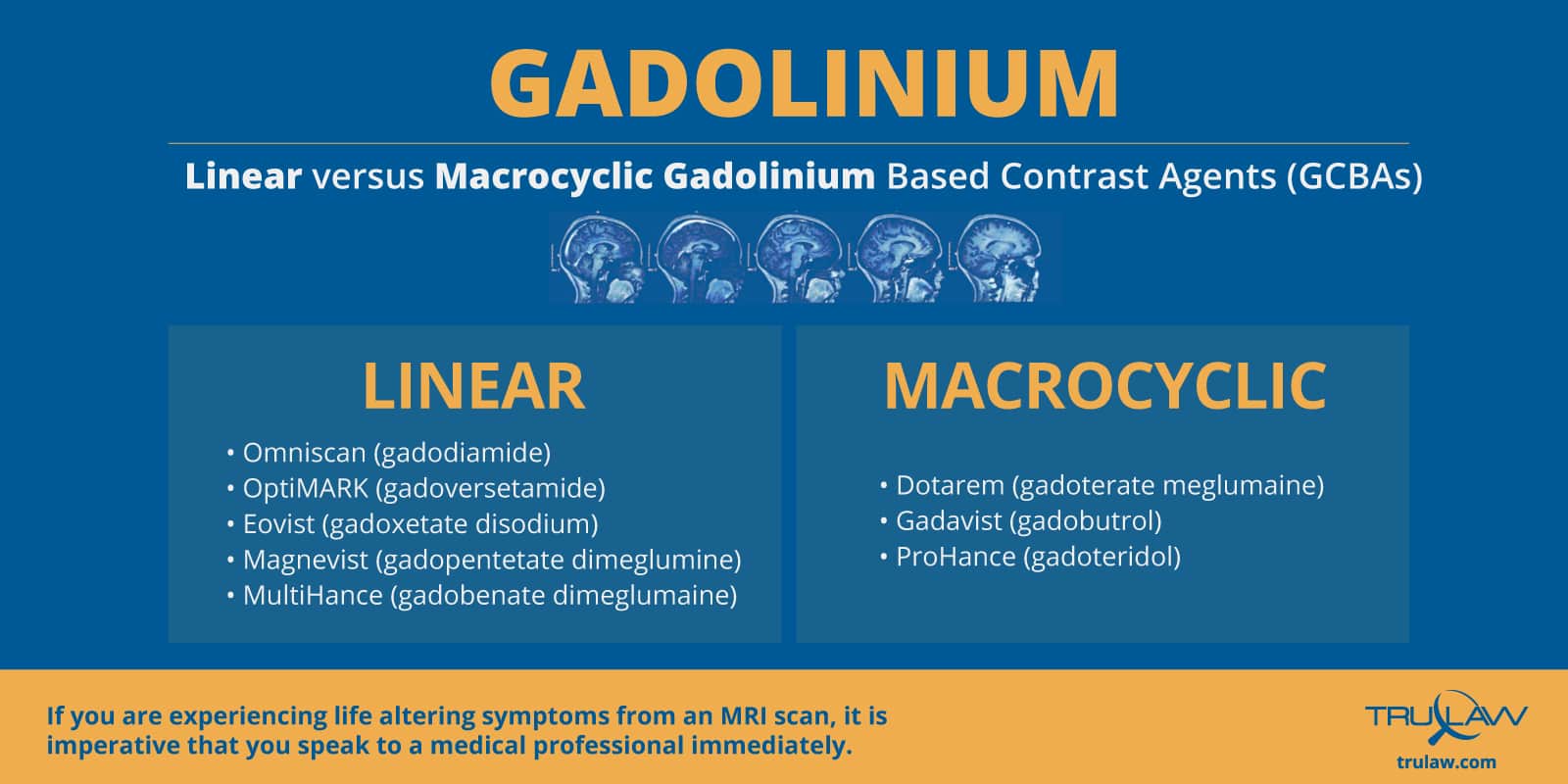 ---
Gadolinium Lawsuits
After five years of intense burning, heart pounding and other side effects from an MRI scan, Gena Norris, wife of actor and martial artist, Chuck Norris, filed a lawsuit in San Francisco Superior court alleging the GBCA used in her MRI poisoned her.  In addition, many other cases have been filed in other states and it is expected that hundreds of these gadolinium lawsuits will be filed soon.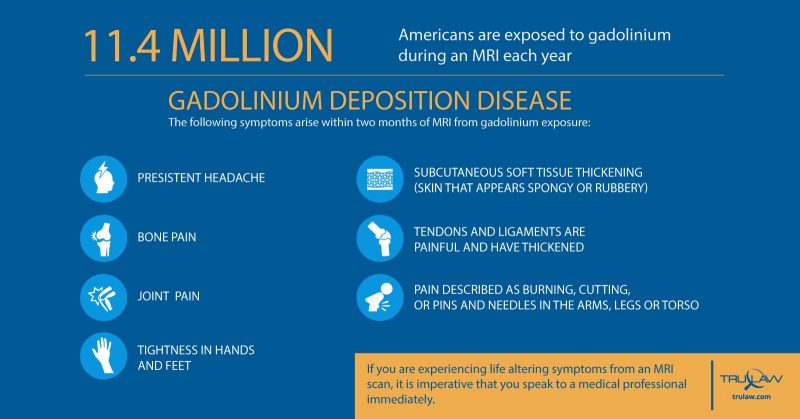 Gadolinium Settlement
In 2008, scores of plaintiffs successfully argued that manufacturers of GCBAs failed to warn about the risk of nephrogenic systemic fibrosis in patients with renal failure or kidney impairment.  These lawsuits resulted in settlements and an FDA warning.
Lawsuits filed on behalf of individuals experiencing GDD are still making their way through court.  There are currently no reported settlements of these cases. It is quite likely that settlement discussions will occur at some point.