Several groups of firefighters have filed lawsuits in state courts against 27 companies that manufacture the firefighter gear. These companies include 3M and DuPont. The firefighters allege that the suppressing foam and their turnout gear contain PFAS, a known cancer-causing toxin.
According to firefighter turnout gear lawsuits, 3M knew about PFAS toxicity as far back as 1950 and DuPont knew as far back as 1961 but continued to use PFAS in protective fire gear.
---
What is turnout gear used by firefighters?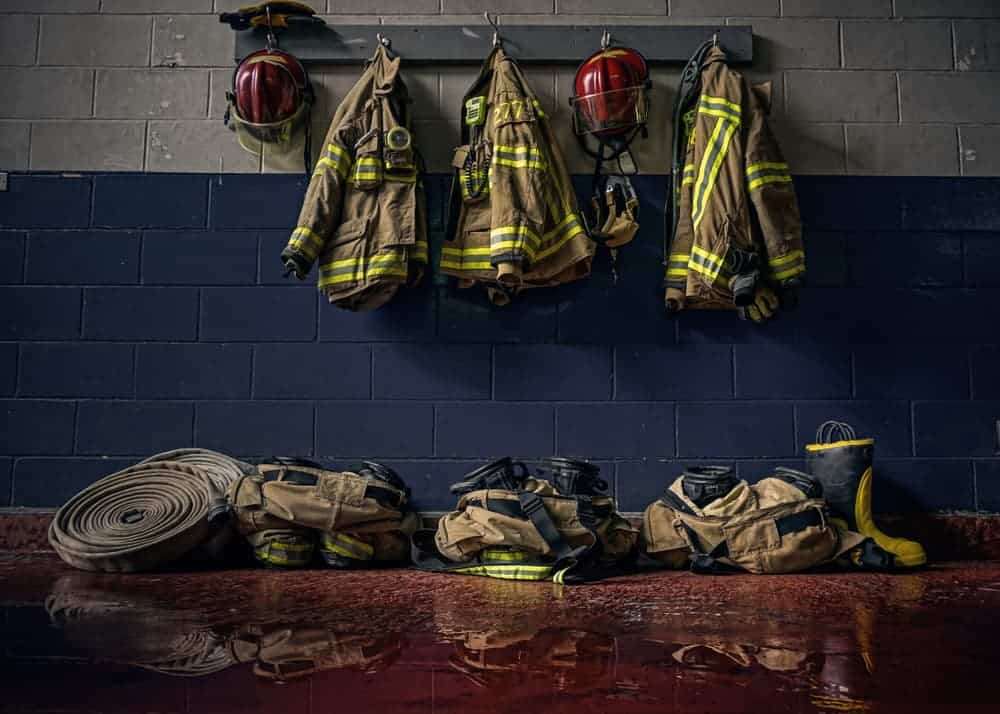 Bunker gear or turnout gear is the term used by many fire departments to refer to the protective clothing worn by firefighters. The name "bunker gear" was derived from the fact that the pants and boots were traditionally kept by the firefighter's bunk at the fire station and ready for use.
The average set of turnout gear weighs as much as 45 pounds. This includes; helmets, gloves, hoods, boots, coats, and pants.
Turnout gear is comprised of three distinct layers: the thermal liner, the moisture barrier, and the outer shell. Each serves multiple specific functions.
The Thermal Liner – the most critical component of turnout gear because it has the largest impact on thermal protection and heat stress reduction. Together with the moisture barrier, these two layers account for up to 75% of the thermal protection of the firefighter.
The Moisture Barrier – provides resistance to water, chemicals, and viral agents. The moisture barrier is the most fragile of the turnout garment. It is most likely to be damaged and deteriorate with age.
The Outer Shell – the first line of defense against fire. The outer shell provides flame resistance and also protects firefighters from cuts and abrasions.
---
"Forever Chemicals" (PFAS) in Firefighter Gear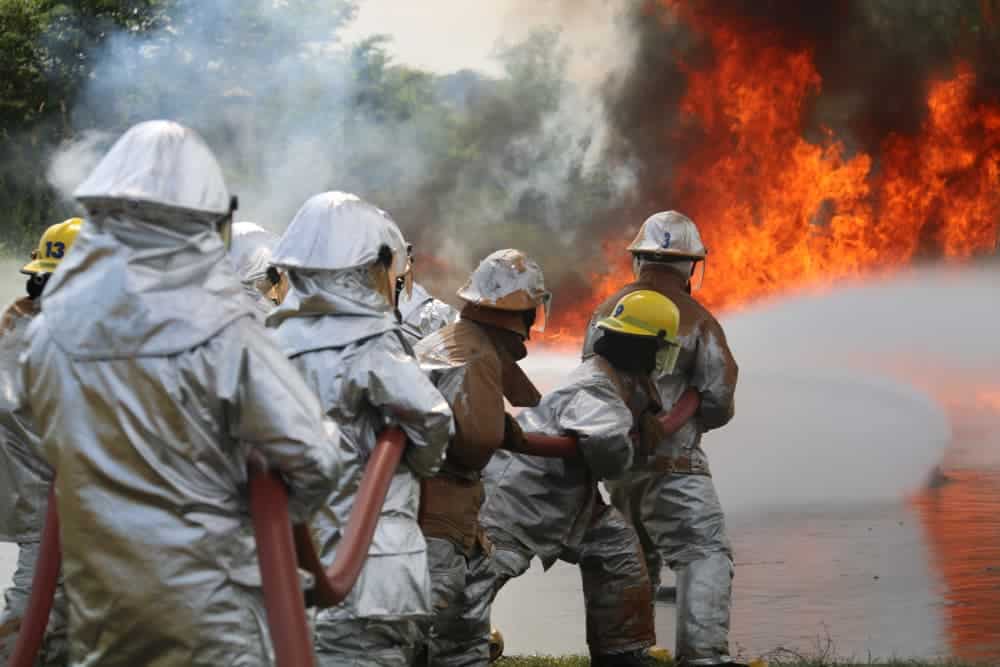 PFAS includes thousands of compounds that are known for their stability and water/heat resistance. These compounds made for an ideal material to use in the uniforms of individuals putting themselves in harm's way to protect the public from fire.
In June 2020, researcher Graham F. Peaslee at the University of Notre Dame, released a study that noted the exposure to PFAS through occupational exposure to aqueous film-forming foams (AFFF) was not the only source of health hazards for firefighters. Alarmingly, the materials closest to the firefighter's skin appeared to gather more PFAS with age. The study noted that PFAS are likely shedding from the moisture barrier and outer liner through use.
Career firefighters who wear this burnout gear for years with shift schedules between 10 hours and 24 hours per day for years wear their gear 75% of the time or sometimes more – with some firefighters noting they do sleep in their uniforms at night.The National Fire Protection Association (NFPA) requires all sets of turnout gear to be retired at or before 10 years of service. More studies are needed to determine when gear begins to shed PFAS.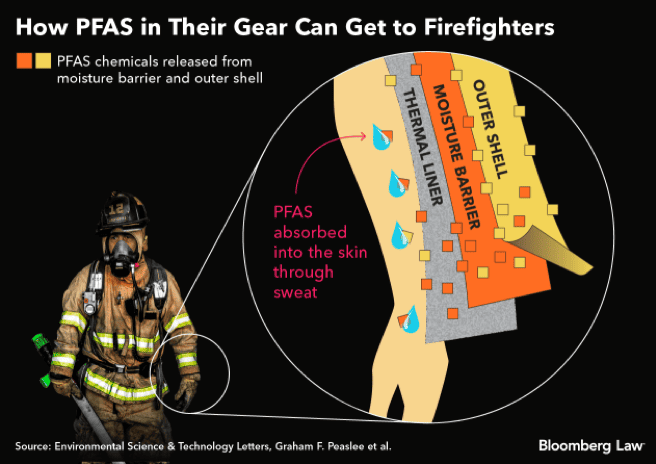 ---
How are people exposed to PFAS?
Studies have shown that nearly 110 million Americans could be exposed to PFAS-contaminated drinking water. Most people are not aware of this contamination because the levels of contamination fall below the so-called reporting levels of 10 to 90 parts per trillion, according to the Environmental Working Group.
However, it is only recently that studies have shown that exposure to PFAS through the skin could pose the same health hazards as ingesting the compound through water. According to the National Institute for Occupational Safety and Health, or NIOSH, mice exposed to four days of heavy exposure to PFAS through their skin harmed their antibodies and caused immunosuppressant issues.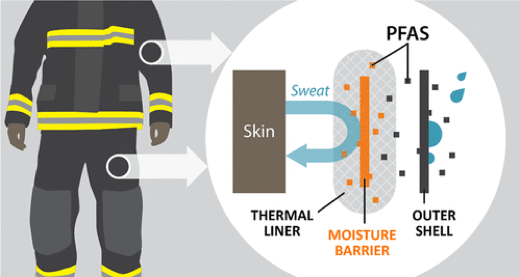 Known as "forever chemicals" PFAS build up in our bodies and never break down. According to Graham Peaslee, Professor of Experimental Nuclear Physics at Notre Dame, "PFAS chemicals gets in the bloodstream; it stays there and can accumulate in the body. There are diseases that correlate with its presence, so we really don't want this class of chemicals out there."
---
Effort to Rid Fire Gear of PFAS Fails
The International Association of Fire Fighters represents 325,000 firefighters in North America (IAFF). In the summer of 2021, the IAFF urged its member to support an amendment to the uniform standards set up by the National Fire Protection Association to protect firefighters.
The National Fire Protection Association (NFPA) is a nonprofit, self-funded organization whose stated mission is to advocate for the elimination of death, injury, property, and economic loss due to fire, electrical and related hazards. There are more than 50,000 individuals that are members of the organization and fund the research, training, education, and advocacy that protect the firefighters they represent.
NFPA 1971 requires a light degration resistance test for moisture barrier materials that would not be passed without the use of PFAS in the gear. When NFPA Standard 1971 was written in 2006, firefighters were generally unaware of the existence of PFAS in the middle level of their uniforms.
In the summer of 2021, an amendment was proposed to correct the health hazards of using uniforms made from PFAS. However, in September 2021, NFPA Council voted to keep PFAS in turnout gear.
NFPA is currently being reconsidered with committee reports posting in December 13, 2023.
---
Top Manufacturers of Firefighter Turnout Gear Include:
DuPont Personal Protection
TenCate
Honeywell First Responder Products
Lion Apparel
Globe Holding Company, LLC
Fire-Dex
W.L. Gore Associates, Incl
PBI Performance Products
Quacker Safety Products Corp
---
Firefighters Are at Higher Risk for Cancer Diagnosis
According to a 2016 study by the Centers for Disease Control and Prevention, firefighters are more likely to be diagnosed with cancer compared to the general public. The CDC study looked at 19,309 male fire fighters who were first hired in 1950 or later and were employed for at least one year. The study looked at the number of days the fire fighter worked, the number of fire-runs made, and the total time spent at fires in Chicago.
The study found that cancer is the leading cause of death in firefighters. According to the study, the cancers of primary concern were:
Leukemia
Multiple Myeloma
NHL
Mesothelioma
Additional cancer concerns
| | | |
| --- | --- | --- |
| Lung | Brain | Stomach |
| Esophagus | Intestines | Rectum |
| Kidney | Bladder | Prostate |
| Testes | Breast | |
---
St. Andre Particle Accelerator – 2020 Study
In 2018, Graham Peaslee, Professor of Experimental Nuclear Physics at Notre Dame, utilized a novel technique to study the presence of chemicals in a much faster method than used previously – the St. Andre Particle Accelerator.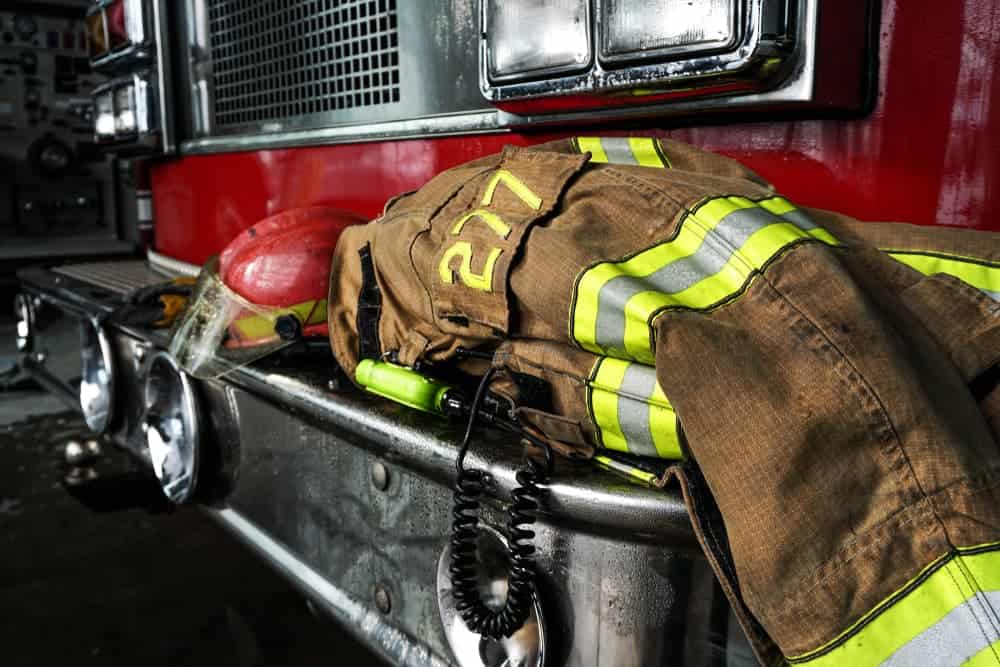 Dr. Peaslee's method got results in minutes which allowed him to test a lot of everyday items for the PFAS. While testing everyday items, Diane Cotter, the wife of a healthy career firefighter who received a prostate cancer diagnosis, reached out to the professor asking him to study fire gear.
Dr. Peaslee noted that the used, new, and old gear was remarkably consistent in how it was fabricated and the levels of fluorine in each of the layers of the gear were startlingly high.
Dr. Peaslee and the Cotters have continued to advocate for change for firefighters.
Another 2020 peer-reviewed study showed firefighters have higher levels of PFAS in their blood serum. In 2019, more than 75% of line-of-duty firefighter deaths were from occupational cancer.
---
Aqueous Film-Forming Foams (AFFF) Products Liability Litigation MDL No. 2873
In 2018, the JPML formed a multidistrict litigation for AFFF cases and transferred all cases to U.S. District Court of South Carolina under the Honorable Richard Mark Gergel. It is unknown at this time whether cases filed on behalf of individuals who believe their cancer was caused as a result of firefighter gear will be transferred to this same MDL or if they will remain in state courts across the country.
---
Is there a Firefighter Turnout Gear Class Action Lawsuit?
Currently, lawsuits against the manufacturers of firefighter turnout gear are being filed in state courts across the country on behalf of individual firefighters who have been diagnosed with cancer. It is unlikely there will be class actions filed on behalf of firefighters since each of these injuries needs to be considered individually.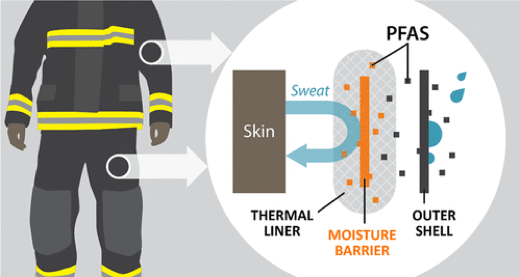 ---
Preventative Measures – According to the San Francisco Firefighters Cancer Prevention Foundation
Keep wearing the gear, unfortunately, there is no alternative to the gear yet.
Treat PPE with respect – use them for fires, but not for non-fire emergencies
Keep gear separate from your kids, out of the back of your car. Put PPE in a bag
Wash the gear before you wear it
Keep it separate from where you live in the house
Proactive Actions
Take action on revised amendment NFPA 1971, as you are being urged by the international association of fire fighters
Explore alternative PPE treatments that will produce similar benefits
Support studies to determine how much dermal absorption is occurring
Dust Analysis – PFAS degrade & become brittle
Legislative Actions
Take action on revised amendment NFPA 1971, as you are being urged by the international association of fire fighters
Push Congress to establish a First Responders PFAS Task Force
Mandate PPE companies to include % of PFAS used in PPE
Create a Maximum number to limit the PFAS allowed in PPE
In addition, if you are an active or retired fire fighter and are worried about your health, share this information with your doctor. It is important that your doctor is kept aware of possible job-related health concerns