Teething medicine lawsuits currently being filed on behalf of children experiencing seizures after using teething products containing belladonna and children diagnosed with methomoglobonemia from teething products containing benzocaine.  The FDA is warning consumers to stop using all teething products that contain these toxic ingredients.
Every parent knows the horrible feeling of not being able to help a teething child. We have all searched for ways to end the misery we see our precious infants go through when new teeth come in. So, it is no surprise that products claiming to give relief to teething infants would be highly sought after.
It is imperative that all parents understand that these teething medicines are not likely effective and have been linked to fatal injuries.  Parents must discard these products immediately.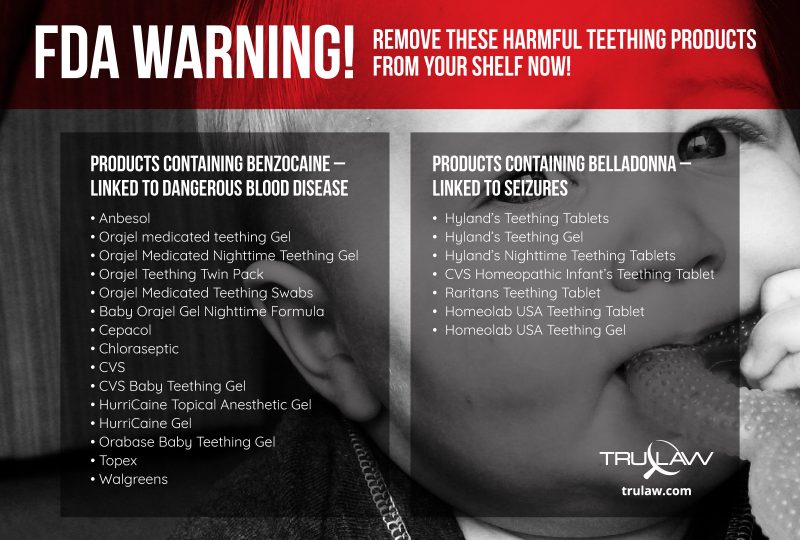 ---
Teething Product Recalls
The FDA issued a number of different warnings asking manufacturers to stop selling teething products.  Below are the largest brand names, but, any parent that has a teething gel, tablet, spray or topical ointment in their home should immediately confirm that the product does not contain either benzocaine or belladonna.  If the product contains either, discard the product immediately.
Products Containing Benzocaine – Linked to Dangerous Blood Disease
Anbesol
Orajel medicated teething Gel
Orajel Medicated Nighttime Teething Gel
Orajel Teething Twin Pack
Orajel Medicated Teething Swabs
Baby Orajel Gel Nighttime Formula
Cepacol
Chloraseptic
CVS
CVS Baby Teething Gel
HurriCaine Topical Anesthetic Gel
HurriCaine Gel
Orabase Baby Teething Gel
Topex
Walgreens
Products Containing Belladonna – Linked to Seizures
Hyland's Teething Tablets
Hyland's Teething Gel
Hyland's Nighttime Teething Tablets
CVS Homeopathic Infant's Teething Tablet
Raritans Teething Tablet
Homeolab USA Teething Tablet
Homeolab USA Teething Gel
---
Teething Product Lawsuits
The first teething tablet lawsuit was filed on April 21, 2017 on behalf of two children taking Hyland's homeopathic teething products who later experienced seizures.  One of the children died as a result of the seizure.
Matos and Sanchez v. Hylands Inc. can be accessed here.
The teething tablet lawsuit against Hylands allege that the manufacturer disregarded known belladonna side effects rand continued to sell these products without informing or warning the public, including the two victims.
As awareness of the link between teething products and the risk of fatal injuries becomes more well known, we expect to file more lawsuits to help get answers for families left with children experiencing unexplainable injuries.
Sudden infant death syndrome (SIDS) is the unexplained death, usually during sleep of a seemingly healthy baby less than a year old.  Rubbing a teething baby's gums with teething ointment prior to putting them down to sleep has been a common practice for years.  Sadly, we are now talking to families who are asking whether the horrific SIDS diagnosis could have been explained by the use of a teething product.
---
Teething Product Side Effects and Injuries
Until recently, it was common practice to apply topical teething products to baby's gums to relieve the swelling and pain that accompanies the break-through of teeth between the ages of 6 to 24 months of age. Products such as gels, sprays, ointments or tablets were often used as a numbing agent and were thought to dull the nerves in the gums, but the FDA is now questioning whether this was ever effective.
Teething medications containing benzocaine or belladonna are no longer recommended because they may cause serious and potentially lethal side effects including:
Blue/Grey Nails
Difficulty Breathing
Death
Excessie Sleepiness
Lethargy
Pale Skin
SIDS
Seizures
Mehomoglobonemia
---
Homeopathic Teething Tablets – Belladonna Poisoning
According to the National Institute of Health, belladonna poisoning can lead to baby teething seizures and is likely unsafe when taken by mouth. It contains chemicals that can be toxic and side effects can include dry mouth, enlarged pupils, blurred vision, red dry skin, fever, fast heartbeat, inability to urinate or sweat, hallucinations, spasms, mental problems, convulsions, and coma.
So, why is a product widely regarded as unsafe included in the list of ingredients for our most vulnerable citizens – our infants?
Because the FDA does not test homeopathic and herbal supplements for safety or effectiveness. Instead, homeopathic drugs must meet the standards established by the same people who profit from them -– The Homeopathic Pharmacopoeia of the United States (HPUS). Members, who are in the business of homeopathy, govern HPUS.
As long as the HPUS includes belladonna in their "Official Homeopathic Drug" list, it may legally be included in a homeopathic medicine, even medicines given to infants.
Belladonna is a toxic and poisonous plant native to Europe and parts of Asia that has been used as a poison as well as an important ingredient in homeopathic medicine for hundreds of years.   Belladonna has been used as:
A sedative
To treat asthma and whooping cough
As a cold and hay fever remedy
For Parkinson's disease
To relieve colic and motion sickness
As a painkiller
But, belladonna has never been tested for safety by the FDA. According to the FDA, children less than two years of age respond to belladonna in an unpredictable way, putting them in avoidable danger
Earlier this year, the FDA warned consumers to seek medical attention if they observe symptoms in children given homeopathic teething tablets or gels as it may indicate "belladonna toxicity."
---
Benzocaine Teething Products
On May 23, 2018, the FDA warned consumers that over the counter (OTC) teething products containing benzocaine pose a serious risk to children.  According to the FDA warning, the key ingredient benzocaine could cause methemoglobinemia, a serious blood disorder.
The FDA announced that teething products containing benzocaine should no longer be marketed and will be taking further action against manufacturers if they do not take action to remove the product.  Furthermore, the FDA noted that these products did not demonstrate any benefit for teething pain.
This was not the first time the FDA warned the public about the danger of benzocaine-associated methemoglobinemia.  The FDA first warned about the potential dangers in 2006 and repeated this warning in April 2011 as they continued to receive reports of injured children.
---
Chloe's Story
Chloe is a beautiful 15 month old baby who became unresponsive 10-15 seconds after her mother, Danielle, used a "pea-size" amount of Baby Orajel Nighttime Pain Relief Gel on her gums.  Danielle described Chloe as immediately turning red and starting to kick and scream but then suddently becoming unresponsive.  Chloe's eyes locked in a dead stare, she became limp, turned blue and stopped breathing.  Luckily for Chloe, this episode was not fatal, she awoke less than a minute later.
Danielle shared her story in a viral Facebook post that has been shared over 100,000 times.  Thanks to Danielle, many parents threw out their Baby Orajel products and continue to warn other parents of the danger lurking in their cabinets.  The comments to Danielle's post tell the story that Chloe's experience was shared by others.
---
Teething Product Dangers – Help Get Word Out!
TruLaw joins a growing group of advocates trying to get word out about the dangers of using teething products.  If you are also a member of this grass-roots group and can offer helpful alternatives, please reach out and we will include your suggestions below.  We applaud all efforts to help keep kids safe from harmful products.
American Academy of Pediatrics
---
Frequently Asked Questions