A popular class of type 2 diabetes drugs referred to as Dipeptidyl peptidase (DPP-4) inhibitors may cause users to develop painful skin conditions and have been linked to painful skin injuries.
---
DPP-4 Inhibitors
Dipeptidyl peptidase (DPP-4) inhibitors are linked to painful skin injuries such as:
Bullous Pemphigoid
Erythema Multiforme
Drug Eruption
Toxic Skin Eruption
Stevens-Johnson Syndrome
Eczema
Oculomucocutaneous Syndrome
The FDA has  reports of the above skin diseases and additional skin symptoms that appear to be linked to DPP-4 inhibitors, but as of today, the FDA has only required a label change to include the risk of bullous pemphigoid.
---
FDA Warning

FDA Safety Labeling Change added a new warning for
"Bullous Pemphigoid
" which is a rare skin disorder that results in skin rashes and blistering on the legs, arms and abdomen. Pemphigoid can also cause blistering on the mucous membranes. Mucous membranes produce mucous that helps protect the inside of the body such as eyes, nose, mouth and genitals.
---
DDP-4 Medications
According to a December 2016 FDA, DPP-4 inhibitors used to treat diabetes mellitus type 2 were found to cause Bullous Pemphigoid in several individuals. For this reason, the FDA sent out label change requirements to the manufacturers of these drugs. According to the FDA, each of the reported injured individuals had very serious outcomes, half of them required hospitalization and one died.
DDP-4 Inhibitor Medications
Januvia
Janumet
Janumet XR
Onglyza
Kombiglyze
Tradjenta
Nesina
Glyxambi
Jentadueto
Kazano
Oseni
Sitagliptin / Metformin
---
Symptoms and Characteristics of a Pemphigoid Diagnosis
Blistering that occurs on the arms, legs, abdomen and mucous membranes
Red rash develops before the blisters
Blisters are large and filled with fluid that is usually clear, but may contain some blood
The blisters are thick and do not rupture easily
The skin around the blisters may appear normal or slightly red or dark
Ruptured blisters are usually sensitive and painful
Hives and itching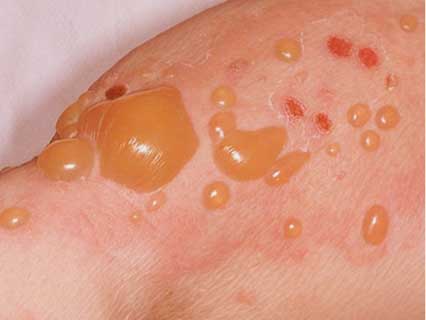 ---
How do I know if My Blisters are Pemphigoid?
The diagnosis of Pemphigoid needs to be made by your doctor or dermatologist, and they may need to perform a biopsy, removing small samples of the skin from the affected area, in order to do so. If patients see symptoms listed below, the FDA is directing them to discontinue the DPP-4 medication and go see a dermatologist for diagnosis and appropriate treatment.
If you are experiencing a skin irritation or complication, please consider
reporting it to the FDA
and let us know so that the public is made aware of the risks.
---
Frequently Asked Questions (FAQ)