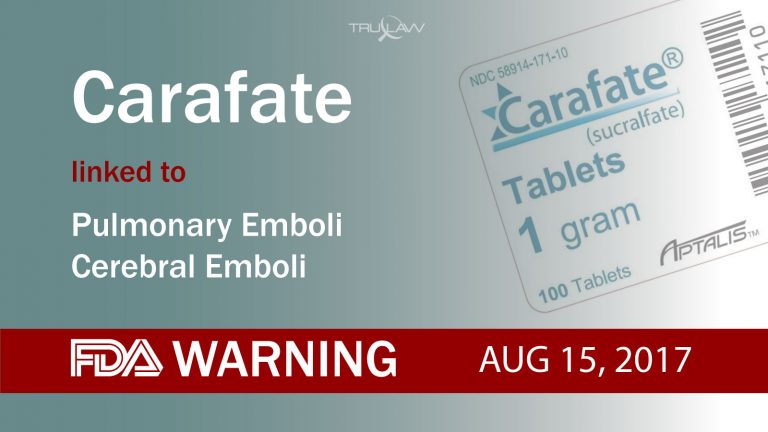 The FDA approved Carafate (sucralfate) in 1981 for the short-term treatment of active duodenal ulcers. A duodenal ulcer is a sore on the upper part of the small intestine and is very common with more than 200,000 cases in the U.S. every year.
Carafate, an oral medication manufactured by Teva Pharmaceutical Industries, Ltd. and Mylan, Inc., is used to treat peptic ulcer disease and to prevent ulcers from recurring. It has also been used to prevent ulcers caused by nonsteroidal inflammatory drugs (NSAIDS), but is generally not as effective for this indication as misoprostol (Cyotec). Carafate can also be used to treat patients with gastroesophageal reflux disease (GERD). Carafate is also prescribed on an off-label basis to prevent ulcers brought on by extreme physical stress (burns, surgery, and extensive infection in hospitalized patients).
Carafate FDA Warning
On August 15, the FDA approved labeling changes for Carafate. The Warnings and Precautions section of the label was updated to include the risk of pulmonary and cerebral emboli – risks associated with inappropriately administering Carafate intravenously. The Warnings section was newly added, as pulmonary and cerebral emboli had previously been listed in the Adverse Reactions section only.
Pulmonary embolism is a sudden obstruction in a lung artery. It happens when a blood clot in the leg (deep vein thrombosis) breaks loose and travels through the bloodstream to the lung, where it can cause:
If the clot is large enough or there are many of them, pulmonary embolism can result in death. Pulmonary embolism has been reported twice to the FDA by Carafate patients, with one case resulting in death.
In the case of cerebral embolism, a clot forms in the heart and large arteries of the upper chest and neck and a portion of it breaks loose and travels through the bloodstream until it reaches vessels too small to pass through, where it interrupts blood flow to the brain, resulting in a silent cerebral infarction (SCI), or silent stroke. SCI is a risk factor for future strokes that could potentially lead to brain damage.
Despite label changes, TruLaw is still monitoring Actemra for some serious adverse events that have been reported to the FDA but which are not currently listed in the drugs current prescribing information, including:
Gastric perforation
Coeliac disease
Upper gastrointestinal hemorrhage
Haematemesis
Neutropenia
Seizure
In addition these serious side effects, Carafate has been identified as having the following common side effects.  Patients experiencing any of these side effects may want to consult with their medical professional:
headache
dizziness
insomnia
diarrhea
nausea
vertigo
indigestion
dry mouth
dizziness
vomiting
flatulence
Since adverse event reporting is voluntary, it is not always possible to reliably estimate the frequency of these injuries.  TruLaw encourages all individuals to report adverse events to the FDA as they occur.
Injured by a dangerous drug, medical device, or toxic chemical?
Get The Help You Need Now!