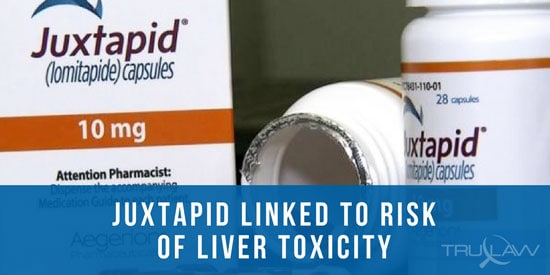 On September 22, Aegerion Pharmaceuticals Inc., a subsidiary of Novelion Therapeutics, agreed to plead guilty to two counts of violating the Federal Food, Drug, and Cosmetic (FD&C) Act related to the company's introduction of misbranded Juxtapid (lomitapide).
Along with the guilty pleas, Aegerion agreed to pay a fine of $40.1 million to the Justice Department and the Security Exchange Commission (SEC), and will enter into a consent decree of permanent injunction with the U.S., which includes participating in a comprehensive FDA compliance program to ensure that the company follows the law.
Juxtapid Comes With High Price Tag, Serious Side Effects
Yearly treatment with this drug costs $200,000 to $300,000, and along with the hefty price a black box warning of serious side effects related to liver toxicity. Juxtapid can also increase liver fat, which may lead to a condition known as hepatic steatosis, a risk factor for progressive liver disease. Due to the risk of liver toxicity, the drug is only available from certified doctors and pharmacies through a special program called the Juxtapid Risk Evaluation and Mitigation Program. 
Aegerion Engages in Illegal Marketing

Court documents indicated that the company tried to market the drug indirectly to non-HoFH patients, even though the drug's approval included a requirement that Aegerion educates doctors about the risks associated with Juxtapid use and that the medication should only be used for patients with a clinical or laboratory diagnosis of HoFH.  
There was also evidence that the company was using a definition of HoFH that was not consistent with Aegerion's pre-approval filings with the FDA and did not match any peer-reviewed clinical standard for diagnosing HoFH. In addition, Aegerion failed to comply with the requirements of the Juxtapid Risk Evaluation and Mitigation Strategy (REMS) program, according to the FDA.
The U.S. Food and Drug Administration (FDA) approved the drug in December 2012 for the treatment of homozygous familial hypercholesterolemia (HoFH), a rare genetic condition in which patients cannot reduce their LDL or "bad" cholesterol levels with conventional treatment methods. The condition appears at birth and can cause cardiac disease in patients even before they reach their teenage years.
Juxtapid New Risks 
On July 28, the FDA approved labeling changes for Juxtapid to reflect new risks of myalgia and alopecia associated with the medication. Alopecia has been reported 27 times by Juxtapid patients, and two individuals were hospitalized due to their conditions. Seventy-three patients reported myalgia with Juxtapid use, with four resulting in hospitalization and two in disability.
Injured by a dangerous drug, medical device, or toxic chemical?
Get The Help You Need Now!