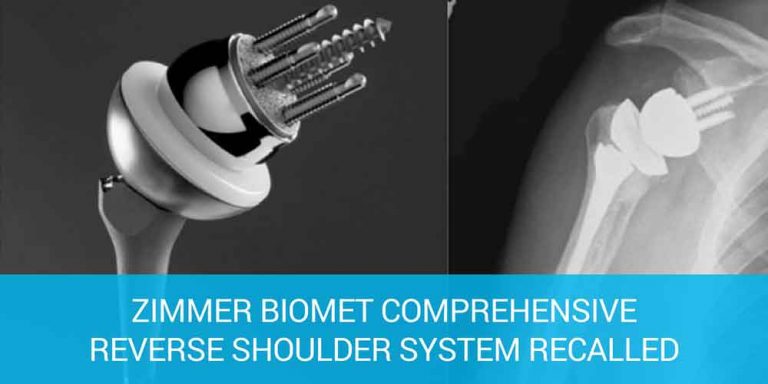 In February 2017, the U.S. Food and Drug Administration (FDA) issued an urgent recall of the Zimmer Shoulder Replacement device due to a high rate of fracture.
According to Zimmer Biomet, problems with the device are due to its design, not a manufacturing error. Fracture of the device is known to cause permanent loss of shoulder function, pain, infection, and other severe injuries. The Class 1 recall, the highest level possible, indicates that a reasonable probability exists that use of the product will cause serious adverse health consequences or death, according to the FDA.
Reverse Shoulder Replacement Considered Problematic
Reverse shoulder replacement, less common that total shoulder replacement, is most often performed on patients who have sustained large rotator cuff tears that have caused them to develop a painful kind of arthritis known as cuff tear arthropathy. Many reverse shoulder replacement patients have already undergone an unsuccessful total shoulder replacement procedure.
Reverse total shoulder replacement is by nature considered problematic, with a complication rate of four times that of conventional total replacement surgery. Zimmer Biomet in particular has had issues with its shoulder replacement devices.
In 2010, Zimmer Biomet recalled the Comprehensive Shoulder Humeral Tray with Locking Ring after receiving complaints regarding the fracturing of the device.
Then on December 20, 2016, the company recalled the Comprehensive Reverse Shoulder because the device was fracturing at a higher rate than stated in the labeling. Fractures could lead to revision surgeries and cause a number of adverse health consequences, including permanent loss of shoulder function, infection, and death.
On February 16, 2017, the FDA identified the 2016 recall a Class I, the most serious type of recall the agency issues.
In 2016, Biomet Inc. agreed to pay $350,000 to a Colorado man who filed a Biomet lawsuit alleging failure of two Zimmer Biomet Reverse Shoulder Injuries, due to the component that the company had recalled in 2010.
Please share this article with individuals worried about loss of shoulder function from fractures due to design error of Zimmer Shoulder Replacement.