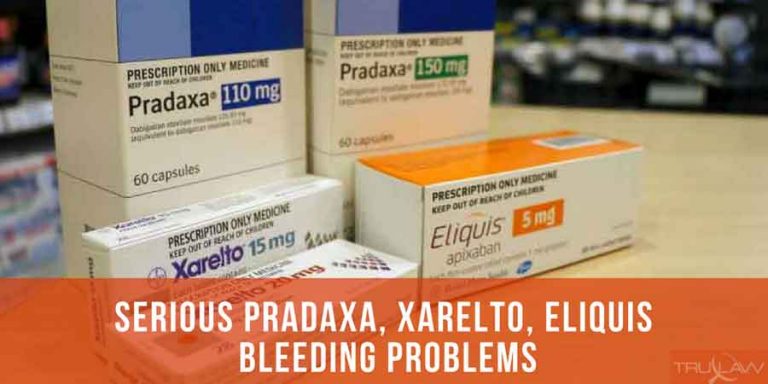 According to the Institute for Safe Medication Practices' QuarterWatch, an organization that monitors drug safety trends new oral anticoagulants (NOAC drugs), Pradaxa, Eliquis and Xarelto problems have earned them the title of 2016's highest priority drug safety problem.These NOAC drugs cause bleeding injuries in 8% to 19% of patients treated.And, with more than 3.8 million patients prescribed one of these oral anticoagulants this is a problem that will affect more than 300,000 patients per year.
Prior to FDA approval of the newer anticoagulants (NOAC drugs), warfarin had been a standard for preventing unwanted blood clots since 1954.But the use of warfarin was tricky in that it required bi-weekly monitoring, had quite a few interactions with food and other drugs and required individual dose adjustments generally at a doctors office.This lack of convenience made for a great marketing campaign for Big Pharma to introduce their new drugs – Pradaxa, Xarelto, and Eliquis.Big pharma spent hundreds of millions of dollars on advertising these drugs as both superior and more convenient.Eliquis was the third most advertised drug in 2015, with Bristol-Myers Squibb spending $249 million on advertising just for Eliquis.The campaign to move to NOAC drugs worked – they now capture more than 40% of the anticoagulant market.
But, seven years after approval of the new oral anticoagulants, it does not appear that the NOAC drugs are living up to either of these hyped benefits.Several studies have shown that NOAC drugs are clinically equivalent to warfarin and several of the NOAC drugs continue to have major uncontrollable bleeding problems because there is no existing antidote.Uncontrollable bleeds often lead to hospitalization, further injury and sometimes death.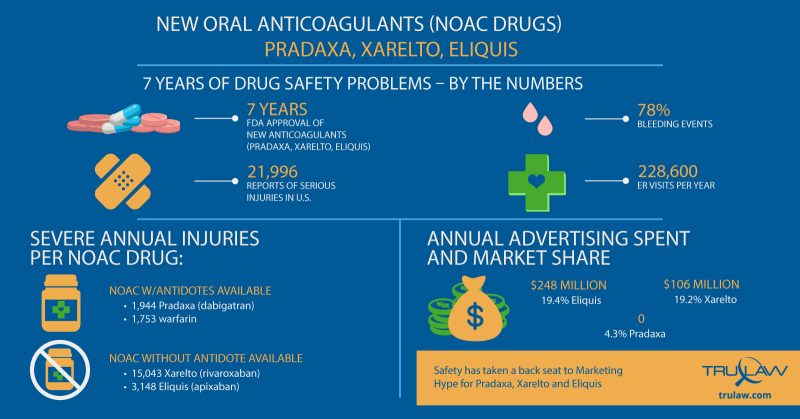 According to the Institute for Safe Medication Practices, a nonprofit organization educating the healthcare community and consumers about safe medicine, Over the 10-year history of a Center for Disease Control adverse event study, emergency department visits for anticoagulant adverse drug effects increased more than 2-fold.In fact, studies find that 6.3% of patients exposed to an NOAC drug for 12 months will need to visit the emergency department, with over 3% requiring hospitalization.The CDC estimates 228,600 individuals will visit the emergency department annually due to anticoagulants.
Prior to 2015, Pradaxa (dabigatran) was associated with thousands of tragic deaths from uncontrollable bleeds in the ER where doctors were helpless to stop the bleed.But, in October 2015, the FDA approved Praxbind (idarucizumad) as an antidote for Pradaxa bleeds and new studies show that it is working.Annual injuries for Pradaxa (dabigatran) are down from previous years.
As of August 2017, the FDA has not yet approved an antidote for Factor Xa inhibitors – that is a drug that will stop uncontrollable bleeds for Xarelto (rivaroxaban) or Eliquis (apixaban), although several drugs are in the works (AndexXa was rejected because of manufacturing issues in August 2016).
Over 40% of oral anticoagulant prescriptions in 2016 were for an NOAC drug – with Xarelto and Eliquis both grabbing over 19% of the market share.Until actions are taken to reduce the risks of this class of drugs, it is likely that NOACs will continue to be a drug safety concern.
QuarterWatch suggests the following practical steps should be taken to help with Pradaxa, Eliquis and Xarelto problems:
Antidotes for bleeding needed for Xarelto and Eliquis
Establish guidelines for use of NOACs with other therapy (use with other drugs can double the risk of bleeds, but little information is shared with patients)
Re-evaluate Xarelto's once-a-day dosing scheme
Provide therapeutic ranges for Pradaxa – it is not the best drug for all patients
Get information out to the public to make sure the NOAC drugs are not overused – especially in atrial fibrillation patients at lower risk of ischemic stroke or older patients with the highest bleeding risks.
If you or a loved one suffered from any Pradaxa, Eliquis and Xarelto problems, you may be able to join the litigation and sue the drug's manufacturer for financial compensation and make sure to share this information with anyone who may need it.