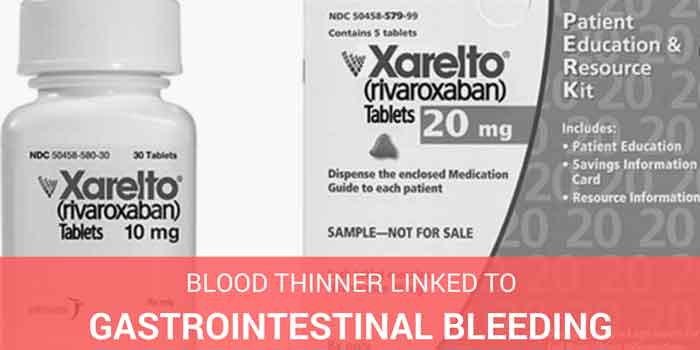 Since being introduced into the U.S. market in 2011, the blood thinner Xarelto is the subject of the Xarelto Lawsuit filed against drug maker Bayer AG and U.S. distributor Janssen Pharmaceuticals (a subsidiary of Johnson & Johnson).
Nearly 14,000 Xarelto lawsuit have been consolidated in federal multidistrict litigation (MDL) in U.S. District Court, Eastern District of Louisiana, where Judge Eldon Fallon has selected four bellwether cases to be tried in Louisiana, Mississippi, and Texas early in 2017. Several thousand more state court cases have also been filed in Pennsylvania, Delaware, and California.
Xarelto is an anticoagulant approved by the U.S. Food and Drug Administration (FDA) as a more convenient alternative to Coumadin (warfarin), the traditional blood thinner that has been used since the 1950s to prevent heart attacks, strokes, and blood clots.
While all blood thinners increase the risk of bleeding problems, Xarelto has been linked to an increased number of uncontrollable blood injuries, primarily because there is no approved antidote available for patients who use the medication, and many of the side effects have been severe because the bleeding cannot be effectively controlled.
Some of the more severe Xarelto side effects associated with Xarelto use include:
Gastrointestinal bleeding
Rectal bleeding
Internal bleeding
Stroke
Heart attack
Pulmonary embolism
Epidural hematoma
Brain hemorrhage
A recent study published in the British Medical Journal suggests that use of rivaroxaban (the generic form of Xarelto) may double the risk of gastrointestinal bleeding when compared with warfarin. The study, which focused on over 45,000 U.S. patients, was intended to help determine the overall safety of rivaroxaban when compared with warfarin in terms of the risk of gastrointestinal bleeding as a side effect, but the researchers were unable to rule out a bleeding risk of more than twice that of warfarin.