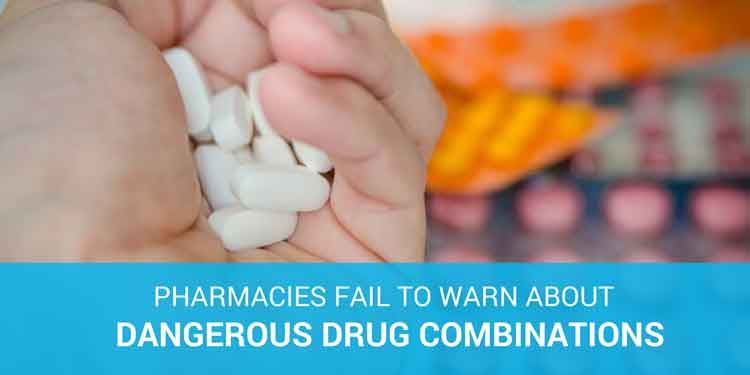 The Chicago Tribune reports that 52 percent of Chicago area pharmacies studied had dispensed dangerous drug combinations without warning consumers.   Most individuals will take multiple drug combinations at some point in their lives.  This study suggests that adding new drugs needs to be met with questions to your medical practitioner about how they interact before you get to the pharmacy.
The newspaper studied 255 pharmacies to see how often the establishments would dispense dangerous drug pairs without warning patients.  They found evidence of a potential industry-wide problem that places millions of consumers at risk. The Tribune recorded a test as a fail if the store failed to warn the consumer about the drug interaction and made no effort to discuss it with the prescribing physician.
CVS demonstrated the largest failure rate by any pharmacy chain studied by The Tribune.  CVS dispensed medications with potential negative interactions with no warning 63 percent of the time. Walgreens had the lowest failure rate at 30 percent.  However, Walgreens still missed nearly one in three potentially harmful drug interactions. Independent pharmacies had the largest overall failure rate among all the stores surveyed at 72 percent. Chains overall failed the test 49 percent of the time.
Problems in the Pharmacy Industry Widespread
The Tribune study revealed a number of dangerous flaws in the pharmacy industry, such as:
Lack of compliance with safety laws
The ineffectiveness of computer alert systems designed to flag drug interactions
An emphasis on fast service over patient safety
In response to the study, CVS, Walgreens, and Wal-Mart each expressed their plans to take steps to improve patient safety at its stores nationwide, affecting an estimated 22,000 stores and the training of 123,000 pharmacists and technicians.
Dangerous Drug Combinations Major Problem
Dangerous drug combinations are the cause of hospitalization for thousands of people each year.  Pharmacists are the last line of defense, but doctors also have significant responsibility as the person who writes the prescription. However, one doctor may or may not know what another doctor prescribed, and research has concluded that physicians' knowledge about specific interactions is often inadequate.