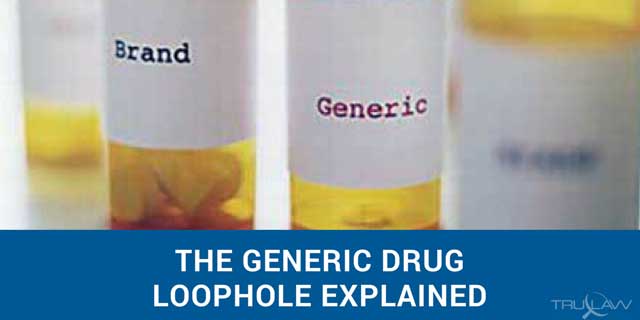 Generic drugs are the "bioequivalent" of name-brand pharmaceuticals offered at a highly discounted rate. Bioequivalent drugs use the same active-ingredient formula as the brand-name drug and it is expected that for all intents and purposes, they can be used for the same purposes. Generic drugs are able to be offered at lower prices because they don't face the same regulations and development costs that brand-name drugs face.  The Hatch-Waxman Act from 1984 set the stage for an explosion in generics when it allowed generic drug companies to avoid expensive clinical trials. 
At nearly one-third the price of brand-name medications, generics can bring consumers significant savings.  While most consumers are pleased to save money on the drugs they need, most of those same consumers do not understand that generics also come with a heavy price – the inability to hold generic companies liable for injuries those drugs cause.
Nearly 8 of 10 prescriptions are filled with the generic form of a name-brand drug. This number is expected to increase as many drug patents expired in 2015-16. Offered at an 80-85% discounted rate on average, generic forms are preferred by pharmacies and insurance companies alike. Most insurance providers require patients be prescribed generic versions of a drug if the generic form exists.
The Loophole: Why Generic Drugs Are Not Liable
Consumers that are injured by a dangerous drug or defective product who were not warned of the risk of injury are generally able to hold the drug company liable for the injury.  This lack of warning may occur when:
a side effect is not included in the warning label,

the manufacturer advertises the drug for off-label use,

or when the warning label is unclear.
However, in a 2011 case "Pliva v Mensing", a judicial ruling found that while this lack of warning applies to brand-name drugs, generic drug makers should not be held responsible for injury caused by the generic version of the same drug. 
Technically, the Mensing case was decided based on the conflict present in state versus federal laws.  State laws regarding product liability are much more stringent than federal laws, yet the FDA sets the standards for the federal laws regarding pharmaceutical manufacturing and approves the drugs for market. The generic drug manufacturers argue that these federal approvals preempt state laws and that they cannot be expected to meet both state and federal regulations because they do not design the drugs, they only recreate the name-brand form.
In the Supreme Courts view, allowing individuals to sue generic manufacturers for failure to warn of risks would put them in an impossible situation: they would have to comply with state-law requirements, but they couldn't because they are following federal law.  This is technically referred to as "preemption" in that federal law preempts state law when it is impossible to comply with both.   
How Does This Affect You?
Today, Mensing (preemption) is the law of the land and consumers are unable to sue generic drug manufacturers for injuries caused by generic drugs.  Consumers looking to save money on the drugs they need must understand that the cost of generics may be the inability to hold that company accountable for injuries.  This "cost" should be weighed against the benefit of using the brand-name drug in making an informed decision about which drug to take.  
Injured by a dangerous drug, medical device, or toxic chemical?
Get The Help You Need Now!