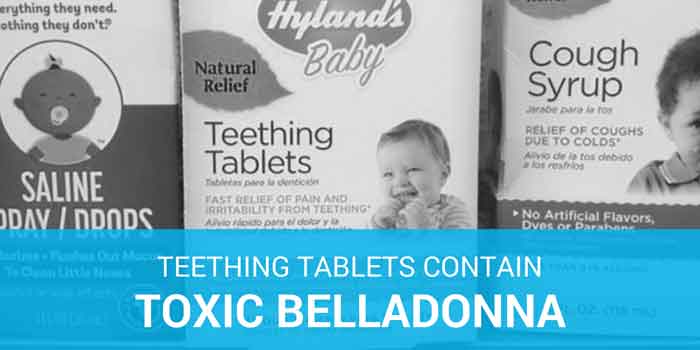 Many consumers have questioned why they were not warned by manufacturers of belladonna in teething tablets and the possibility of belladonna toxicity as they learn of the deadly nightshade, belladonna in teething tablets.
Belladonna In Teething Tablets
According to the National Institute of Health, belladonna is likely unsafe when taken by mouth.  Despite this warning from NIH, belladonna has been used in homeopathic medicines for centuries.
The U.S. Food and Drug Administration (FDA) announced on January 27 that through laboratory analysis, inconsistent amounts of toxic belladonna found in certain homeopathic teething tablets pose an unnecessary risk to infants and children.
Belladonna Toxicity
According to the FDA, products like Hyland's Homeopathic Teething Tablets and gels that contain belladonna puts children under the age of two years old at unnecessary risk.
Belladonna is a poisonous plant native to Europe and parts of Asia that have been used as a medicine for centuries. Although widely regarded as unsafe to eat, belladonna is frequently used for Parkinson's disease, as a sedative for asthma symptoms and whooping cough, a cold and hay fever remedy, colic, motion sickness, and as a painkiller. It is also used in certain homeopathic teething tablets used to calm a teething baby, but it now appears that the amount of belladonna used in these products are inconsistent and may lead to belladonna toxicity in infants.
Janet Woodcok, M.D., director of the FDA's Center for Drug Evaluation and Research, is now warning parents: "We recommend that parents and caregivers not give these homeopathic teething tablets to children and seek advice from their health care professional for safe alternatives."
Belladonna Homeopathic Teething Products Not FDA-Approved Or Recalled
Contrary to common belief, homeopathic products have been neither evaluated nor approved by the FDA for safety and effectiveness, and the agency is unaware of a proven health benefit from using them, although they are labeled to relieve teething symptoms in babies and young children, leading many consumers to ask…
Why Is Belladonna Homeopathic?
In light of its laboratory findings, the FDA contacted the manufacturer of Hyland's homeopathic teething products, Standard Homeopathic Company in Los Angeles regarding a recall of its products known to contain belladonna. According to the FDA, Hyland's has not agreed to conduct a recall of their toxic products and instead, Hyland's is sending conflicting messages to weary parents.  In a recent Facebook post on the Hyland's Facebook Page, a concerned parent asked about the FDA warning to which Hyland's replied: "we cannot understand a factual basis for the FDA's release."  Furthermore, a Hyland's executive posted a video response to these inquiries that noted: "even doctors jump to wrong conclusions."
These are dangerous reactions to an FDA warning and to news that these products may be tied to the death of an infant.   The CEO of Hylands appear to be most concerned about the loss of jobs at his company as a result of these warnings.  In a recent interview with CNN, John P. ("Jay") Borneman noted that the discontinued sale of these products "sadly resulted in the loss of 24 jobs."
A company that chooses to ignore the findings of the FDA and misleads parents about belladonna toxicity and questions medical advice needs to be held accountable for these actions.  TruLaw has two goals – first to get the word out to parents that the FDA has now spoken, and you need to throw these products out and trust medical professionals.  Share our Teething Tablet Lawsuit Page for more details about the reports and recalls.
And, secondly, TruLaw will challenge any company that puts profits ahead of safety for the injuries their products caused.  We are currently speaking to the parents of children that believe their seizures or other injuries could have been caused by these homeopathic products to let them know of their legal rights.  Please help us get the word out – if you want to see if you qualify for a Teething Tablet Case, we would be happy to talk to you.
FDA Warns Consumers About Toxic Levels of Belladonna in Teething Tablets