Not All Drugs With Side Effects Are "Bad Drugs"
It is important to know that before a drug can be approved, a company must submit clinical data and other information to prove that the drug is safe and effective for its intended uses.
A drug that is approved for the market is one in which benefits for a particulate use outweighs the potential risk.
A "safe" drug is not one that is free from all side effects.
In our experience, pharmaceutical companies often profit over consumer safety on many occasions by rushing drugs into the consumer marketplace without proper testing.
In addition, many drug side effects are learned after the drug goes to market and whether or not the company chooses to warn consumers of known side effects also impacts whether a drug is safe.
In addition, a drug that the FDA determined to be safe for a particular use, may be prescribed by a medical professional for an unapproved use – this is referred to as "off-label" use and it is important that consumers understand whether the drug they are taking has been approved as it is being prescribed.
What Is A Bad Drug?
Companies are releasing new drugs and medical devices every day.
Although we are lawyers that sue drug companies for the injuries these drugs cause, we are not anti-drugs – there are many helpful and necessary drugs.
We believe in consumers' right to make informed decisions about the drugs they and their family take on a daily basis.
And, we consider a bad drug to be one that causes injuries and side effects that were not warned about.
Since the consumer did not know of the side effect of risk of injury, they were not able to make an informed decision about whether that drug is necessary for the health of themselves or their family.
Many individuals ask us how "bad drugs" can remain on the market.
The simple reason is that drug side effects are under-reported and drug companies are profit driven and their only duty is to their owners, they have no ethical duty to remove "bad drugs" from the market.
The FDA collects information regarding the safety of drugs before allowing the drug to go to market, but, not all side effects are known prior to the drug going to market and in some cases, drug companies are not completely forthcoming in their reporting of injuries.
For that reason, it is imperative that individuals report side effects of drugs to the FDA.
It is estimated that less than 10 percent of all side effects are reported to the FDA which means there are many unknown side effects of drugs currently on the market.
Who Do I Sue In A Bad Drug Case?
Individuals are often nervous that we will sue their doctor in the case of a bad drug lawsuit.
This is not the case.
Bad drug cases are filed against the manufacturer and/or distributor of the drug.
In some cases, a pharmacy may be involved as well, but, we do not sue doctors.
Should I Join A Bad Drug Class Action Lawsuit?
People often ask whether they will be part of a "class action" when they file a bad drug case.
This is most often NOT the case.
Often, individual cases are grouped together so the attorneys and judge can address common procedural issues initially, saving time for the injured parties and the court, but this is very generally referred to as a "mass tort."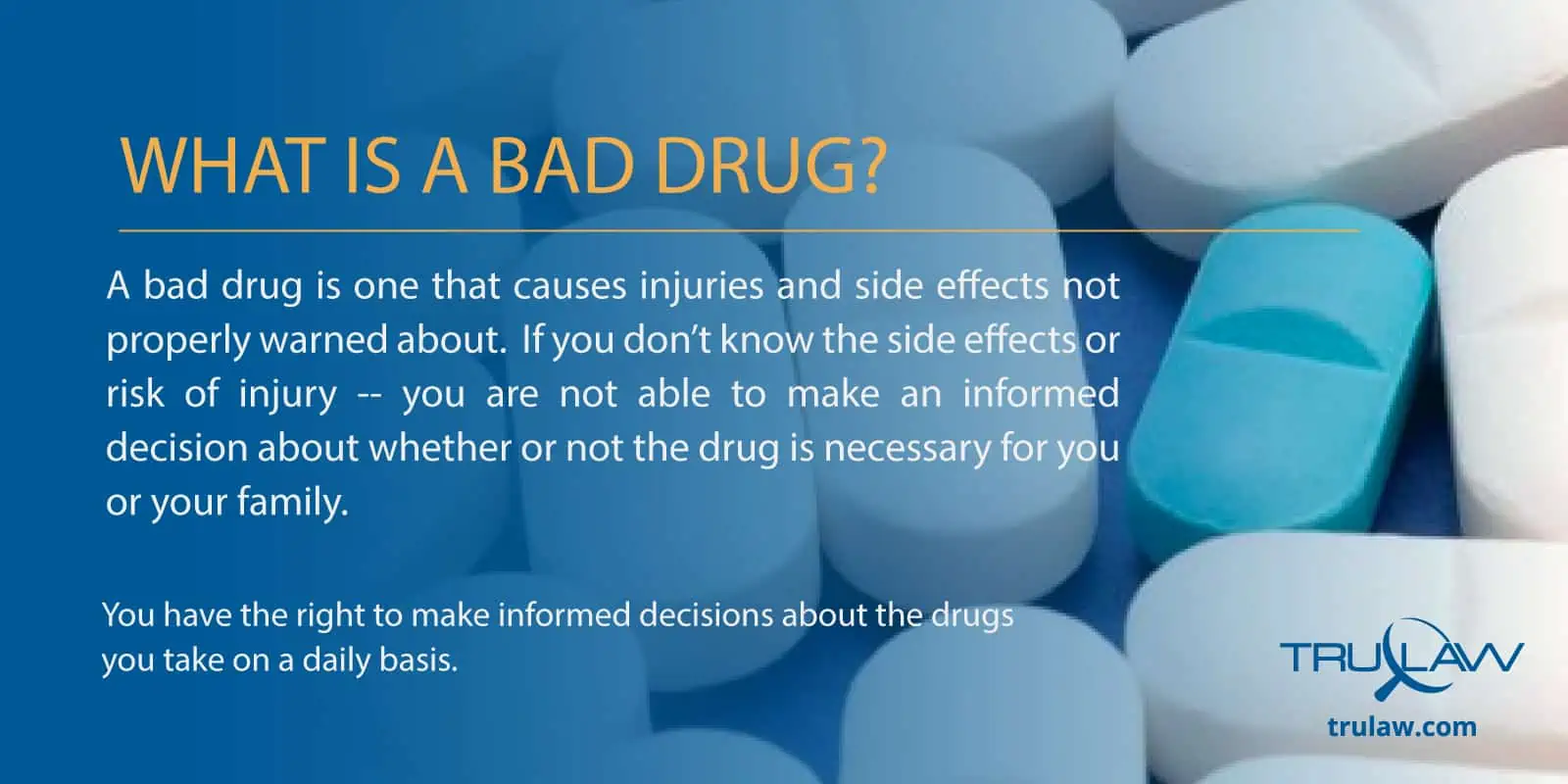 A mass tort refers to civil actions involving numerous plaintiffs against one or a few pharmaceutical companies in state or federal court.
Class actions are mass torts that are generally used for financial losses and multidistrict litigations (MDL) are typically used for personal injury claims, as in bad drug cases.
It is important to understand that mass tort cases are an effective tool for getting the attention of the large drug companies.
MDLs assist lawyers in determining exactly what the drug companies knew about the risks their drugs caused and whether or not they should have warned consumers about these risks.
Too often, consumers believe that they can file a single lawsuit and get the attention of big drug companies.
This is very hard to do.
How Do I Choose A Bad Drug Lawyer?
It is very important to understand that filing lawsuits on behalf of several or a large number of plaintiffs for injuries sustained against a large pharmaceutical company require a lawyer that has the experience and resources to be able to endure a long and complicated litigation.
The location of your lawyer is generally not the primary concern, as it is unlikely the company you are suing, the medical experts and the court that your case will be filed in will be in the same city or even state that you live in.
Furthermore, bad drug lawyers tend to live in cities that are easy to travel to/from since representing you on a large case like this will likely require a lot of travel.
For that reason, it is important that you ask the lawyer that you are considering a few questions to make sure they are a good fit for your lawsuit:
How will I pay you?
Do I need to pay any costs ahead of time?
Do you have experience in bad drug lawsuits? If so, were you successful?
Will you be available to me via phone and/or email as the case progresses?
It is in your best interests to find a lawyer that will agree to a "contingency fee arrangement" for your bad drug lawsuit.
In addition, you will want to make sure that your lawyer is prepared to pay the costs of filing and building a successful lawsuit on your behalf.
Bad drug cases require a lot of financial resources – you can assume that the drug company that you are looking to hold responsible will hire a great legal team to defend themselves against cases without merit, and until you prove your case has merit, you will be fighting an uphill battle that will cost a lot of money.
The best lawyer for you will believe in your case enough to invest in it which is what a contingency fee arrangement allows for.
Your lawyer will not be paid unless and until they get you a successful verdict or settlement.
Costs in contingency fee arrangements are also paid for by the lawyer and then deducted from your final verdict and/or settlement.
If you can find a lawyer that will represent you in a contingency fee arrangement, you know they will be working hard for you since they are also invested in your case.
Although prior settlements and verdicts are not indications of future settlements and verdicts, it is important that you know your lawyer's prior history of obtaining settlements or favorable trial verdicts for bad drug cases.
Most bad drug lawyers will share with you total amounts of PUBLIC settlements and verdicts, but they will be unable to share specific details in most cases.
TruLaw and our partner law firms have successfully obtained $3 billion in public verdicts and settlements, all on behalf of individuals who were injured through no fault of their own.
One last thing you need to ask any potential bad drug lawyer is how you will reach them during the lawsuit.
You should get a phone number and an email, not just of the lawyer, but of a legal administrative assistant who will be able to keep you updated as to the progress of your lawsuit.
Although it's ideal to talk to your lawyer, realistically you will find that getting ahold of the legal assistant and developing a great working relationship with them is your best bet.
Bad drug lawyers are very busy – that's a good thing.
But, most keep their legal assistants updated on the status of the cases.
Communication with your bad drug lawyer should be a two-way street – if anything changes as far as your medical or contact information, you need to contact your lawyer with these changes.
Current Bad Drug Lawsuits
Until drug companies are completely forthcoming with information about the side effects and injuries their drugs cause, we will continue to file bad drug lawsuits on behalf of those that are injured.
The list of lawsuits that we are filing is constantly changing – you can see more details on each of them by linking to the relevant drug below.
Furthermore, if you were injured by a drug and do not see that a bad drug lawsuit has currently been filed, reach out to us and we will look into it for you at no charge and no obligation.