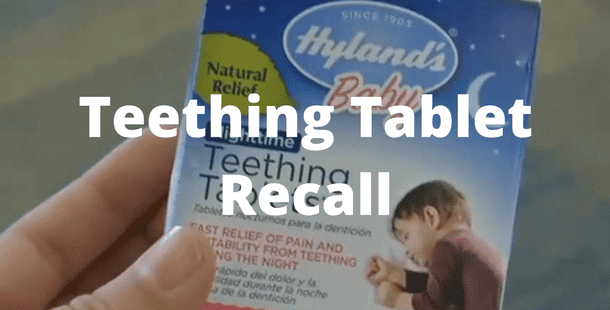 On April 7, 2017, the FDA issued a Class 1 baby product recall for Hyland's Natural Relief Teething Tablets and baby teething tablet lawsuits now move forward in the court system.  According to the letter to Jay Borneman, the CEO of Hylands, the teething tablets "represent a serious health hazard" and a recall for all lots of the teething tablet was required immediately. 
The FDA again noted that some of the homeopathic teething tablets tested far exceeded the label claim and that Hylands exhibited a "fundamental lack of control over the content of toxic chemicals."  This April recall follows a January 2017 FDA announcement that warned the public of inconsistent amounts of toxic belladonna present in lab testings of Hylands Natural Remedy Teething Tablets. 
It is imperative that all individuals now remove all lots of Hylands Natural Relief Teething Tablets from their homes.  Furthermore, if you notice any symptoms of belladonna poisoning such as fevers, lethargy, agitation, or seizures after giving your child the tablets, call your doctor immediately. 
Baby Product Recall after Adverse Events Ignored by Hyland
The FDA Adverse Events website tells the story of a company hell bent on ignoring panicked parent's pleas to discontinue a product that teams of doctors told them harmed their babies.  Seven years of injuries and deaths reported and presented to a company that marketed this product to parents who believed this was the "natural choice" – Hyland's homeopathic teething tablets. 
Not only did Hylands continue to market this dangerous product despite knowledge of the injuries, they also took action to continue to deceive the public by telling them that their products were safe even at large doses and that anyone saying otherwise was promptly dealt with through phone calls and bans from the company's social media pages. 
On October 23, 2010, the FDA warned parents to stop using Hyland's Teething Tablets because FDA lab testing found varying amounts of belladonna in the tablets.  During 2010, Hylands was informed of four infant deaths that were consistent with belladonna toxicity.  Some of these deaths were previously reported as SIDS.   As a result, Hyland recalled their homeopathic teething tablets but they returned to the market in 2011 when the company stated that they had "identified manufacturing processes of teething tablets that can be improved to ensure uniformity in dosage."
According to FDA documents, the belladonna poisoning did not stop after the reformulation.  In 2012, the FDA shows the company was warned of several seizing infants, admittance to the ER and one known death.  These events occurred after the reformulation. 
Instead of taking action to discover why the belladonna poisoning continued, Hylands took to public relations, making sure that any parents vocally complaining or warning others were banned from the company's social media pages.  

FDA records from 2012 to the present day tell the sad story of seven years of belladonna poisoning that could have been prevented.  Numerous children presented with symptoms such as seizures, difficulty breathing, lethargy, excessive sleepiness, and some ultimately became dehydrated and several ultimately died. 
Studies estimate that injuries are reported to the FDA 10% of the time.  Given the number of injuries that have been reported, we can only imagine how many other infants were continuously given toxic tablets by their family and how many suffered as a result. 
Baby Teething Tablet Lawsuit
While the Baby Teething Tablet Lawsuit moves forward in court, we continue to talk to families who want to know whether their infant was poisoned by Hylands Teething Tablets.  Today, we are unable to say how many more families will come forward.  According to FDA estimates, only about ten percent of all adverse events are actually reported to the adverse event database.  Currently, the FDA adverse event database has information about 400 injuries that are believed to have been caused by belladonna in homeopathic teething tablets.  Therefore, the number of injuries may be ten times that amount, with a number closer to 4,000.

We have talked to hundreds of parents who are now questioning whether the teething tablets they gave their children may explain injuries the infants had between 2010 and the current date.  We will be filling teething tablet lawsuits on behalf of many of these families – we look forward to holding Hylands responsible for their actions.
If you are aware of anyone whose infant may have experienced seizures after using Hyland's Natural Remedy Teething Tablets, please share this article "Baby Product Recall Issued While Baby Teething Tablet Lawsuits Move Forward" with them.