Were you diagnosed with mesothelioma?  Are you struggling to figure out the cause of your exposure?  You are not alone.  Mesothelioma websites and lawsuits concentrate on exposure to asbestos through work.  New studies and a successful talcum powder mesothelioma lawsuit point to an additional cause of this devastating cancer.  Exposure to asbestos through talc products.   
TruLaw is filing lawsuits on behalf of mesothelioma victims claiming talcum powder-based products containing asbestos caused their mesothelioma diagnosis.
What Is The Cause Of Mesothelioma?
Mesothelioma is a rare form of cancer that affects the mesothelial cell.  The mesothelial cells are the protective layer of tissue around the lungs, heart, and stomach.  They cushion the organs, prevents friction, and allows for free movement of the body.
Mesothelioma is a serious diagnosis.  2,000 to 3,000 people die from mesothelioma each year in the U.S.  Asbestos exposure is responsible for nearly all cases.  On average, individuals live for less than one year after a mesothelioma diagnosis. 
Exposure to asbestos dust is considered to be the main cause of mesothelioma. Individuals currently suffering from mesothelioma were likely exposed to asbestos at least 20 years ago.  Talcum powder studies and lawsuits show individuals exposed to asbestos through talcum products used these products continuously throughout their lifetime.  
Should You File A Mesothelioma Lawsuit For Talc Product Exposure?
For years, lawsuits filed by individuals who were exposed to asbestos in the workplace moved forward in the courts.  Individuals without any identifiable exposure to asbestos in the workplace were unable to find justice in the courtrooms.  Those individuals are now looking at their use of cosmetic products containing talc.
Several lawsuits have successfully compensated individuals who allege continuous exposure to talc powder was the cause of their mesothelioma.
Recent cases expose evidence that talc products such as baby powder contain asbestos.  Companies such as Johnson & Johnson and Imerys Talc America have been hit with multi-million dollar verdicts for acting with reckless indifference in selling the cancer-causing products that contributed to the development of mesothelioma.  
Steven Lanzo, who was recently awarded a $117 million verdict, (including $80 million in punitive damages), was exposed to talcum powder products starting in the 1970's when his mother used baby powder on him as an infant.   Lanzo continued this common practice through his adult life to 2003.  The jury found that this use of baby powder products played a substantial role in Steven's mesothelioma diagnosis.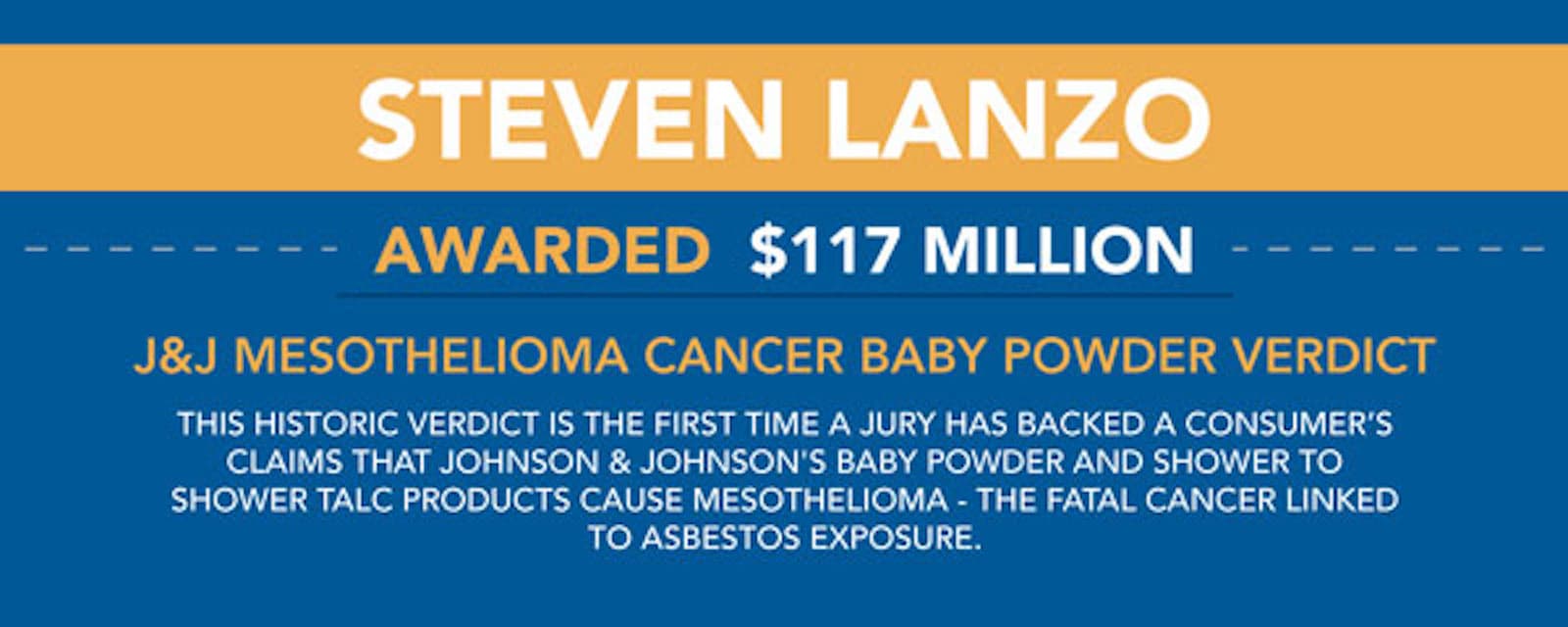 Johnson & Johnson used tests that detect asbestos only above a certain threshold and for that reason, did not report asbestos in talcum, according to the Lanzo case.  This same high standard was used by researchers that lawyers alleged were influenced by Johnson & Johnson in publishing biased scientific literature.   J&J continues to deny the existence of asbestos fibers in their talc products.  
The jury in the Lanzo case awarded punitive damages because they found that J&J knew their talc powder products contained asbestos for over 50 years but kept that information hidden from the public.  
History Of Asbestos-Associated With Talc Powder
In 2006, the International Agency for Research on Cancer, a unit of the World Health Organization classified talc as  "carcinogenic to humans".
Despite this frightening classification talcum powder has been used for decades for a wide variety of purposes including as an ingredient in soap and baby powder, an industrial lubricant for precision machinery, and in the papermaking industry.
In 1973, the U.S. Food and Drug Administration (FDA) began to require that cosmetic products be tested for asbestos, and in 1989, the U.S. banned asbestos in certain products. Although it was banned outright in more than 50 countries, talcum has not been banned in the U.S.  As a result, asbestos is still present in a number of consumer products.  New studies add common cosmetic products, body and baby powder, and talc used by barbers. 
An explosive 2014 study published in the International Journal of Occupational and Environmental Health found asbestos-contaminated talc in the lung tissue of a woman who died of asbestos-caused mesothelioma after years of using the product.  As a result of this study, many scientists, physicians, and lawyers attribute at least part of the increase in asbestos-related diseased to the presence of asbestos in consumer products.  
No Regulations Regarding Talcum Powder And Asbestos

There are currently no federal regulations requiring that cosmetic-grade talcum powder product be asbestos-free.  The FDA takes action to ban a product only if they have sound scientific evidence demonstrating that the product is harmful when used as it is intended.
Despite the lack of regulation, a number of organizations have released guidance regarding the use of talcum powder and its potential relationship with mesothelioma:
The American Academy of Pediatrics advises parents to not use talcum powder on babies.  It increases the risk for respiratory problems, including breathing difficulty and severe lung damage if inhaled by the child. The microscopic size of talc particles makes it difficult to keep the air free of them while applying the powder, and zinc oxide-based salves are thought to be a safer alternative.

The U.S. Food and Drug Administration (FDA) conducted testing on dozens of cosmetics for asbestos contamination between 2009 and 2010.  They found no asbestos fibers in any of the samples tested.  Then they labeled the results as "informative" rather than "conclusive" because only four of the nine requested products participated in the study.

The International Agency for Research on Cancer (IARC) categorizes talc that contains asbestos as "carcinogenic to humans".

The American Cancer Society states that it remains unclear whether consumer products containing talcum powder actually increase cancer risk.   Until more information is available, those concerned may want to avoid or limit the use of consumer products containing talc.

Talcum Powder Mesothelioma Lawsuits
For years, ovarian cancer has been linked to talcum-based products and these talcum powder lawsuits continue to move forward in court.  Johnson & Johnson currently faces more than 6,600 talcum powder-related lawsuits.  Most allege that the products caused women to develop ovarian cancer.
Recently there have been a number of substantial verdicts in talcum powder mesothelioma litigation across the nation.  More individuals are expected to challenge the continued denial of talcum manufacturers in court.
Recent cases include:
In 2015, a California woman won a $13 million case against Colgate-Palmolive.  This was after she proved that she had contracted mesothelioma from asbestos present in the company's Cashmere Bouquet talc product.  She had used the talcum powder from 1961 until 1976.

In 2016, a Los Angeles Superior Court came back with an $18 million verdict against talc provider Whittaker, Clark & Daniels. The man who brought the lawsuit had alleged that the company's talcum powder products used at the barbershop where his father worked had exposed him to asbestos.  He was diagnosed with mesothelioma in May 2015.

In 2017, a Los Angeles Superior Court found in favor of the company in the first talc-mesothelioma litigated case.


In April 2018, a New Jersey state court jury ruled that in addition to the $37 million already awarded in compensatory damages by the jury, Johnson & Johnson and talc supplier Imerys SA owed another $80 in punitive damages to an individual who developed mesothelioma from the use of asbestos-tainted talcum powder. This was J&J's first court defeat over allegations that its talc-based products contain asbestos.
Talcum Powder Mesothelioma Lawsuit Steps
An injured person who brings a talcum powder mesothelioma lawsuit is often eligible for compensatory damages.  These might include:
·   Pain and suffering
·   Medical expenses
·   Lost earnings
·   Loss of consortium
·   Loss of enjoyment of life
In some jurisdictions, the plaintiff may also be able to recover punitive damages intended to punish a company for misconduct and discourage others from engaging in similar conduct. To recover punitive damages, a claimant must prove that the defendant acted recklessly with disregard to a known risk, or maliciously or intentionally harmed the plaintiff.
To recover damages in a mesothelioma claim a plaintiff must present evidence of the diagnosis and proof of asbestos exposure. The person must prove specific legal claims asserting that the defendant was negligent and did not exercise reasonable care in manufacturing, selling, or using products containing asbestos.
References
Talc: The Softest Mineral. (n.d.). Retrieved from https://geology.com/minerals/talc.shtml
Clark, J., McKee, J., & MCA. (n.d.). Asbestos in talc powder products. Retrieved from https://www.mesothelioma.com/asbestos-exposure/products/talc-powder/
J&J loses talcum powder lawsuit. (2018, April 12). Retrieved from https://www.asbestos.com/news/2018/04/06/johnson-johnson-asbestos-talc-damages/
FDA investigates cosmetics for asbestos contamination. (2018, March 28). Retrieved from https://www.asbestos.com/news/2012/03/22/fda-cosmetics-testing-asbestos/
Talcum powder lawsuit: Asbestos in talc linked to mesothelioma. (n.d.). Retrieved from https://www.maacenter.org/blog/talcum-powder-lawsuit-asbestos-in-talc-linked-to-mesothelioma/
Gordon, R. E., Fitzgerald, S., & Millette, J. (2014, October). Asbestos in commercial cosmetic talcum powder as a cause of mesothelioma in women. Retrieved from https://www.ncbi.nlm.nih.gov/pmc/articles/PMC4164883/
Talcum powder and cancer. (n.d.). Retrieved from https://www.cancer.org/cancer/cancer-causes/talcum-powder-and-cancer.html
IARC Monographs on the Evaluation of Carcinogenic Risks to Humans. (2014). International Agency for Research Carbon Black, Titanium Dioxide, Talc on Cancer, 93, 1-466. Retrieved from http://monographs.iarc.fr/ENG/Monographs/vol93/index.php on September 29, 2014.
Schneider, A. (2014, October 31). Study: Cosmetic talc products carry asbestos peril. Retrieved from https://www.seattlepi.com/national/article/Study-Cosmetic-talc-products-carry-asbestos-peril-5861858.php