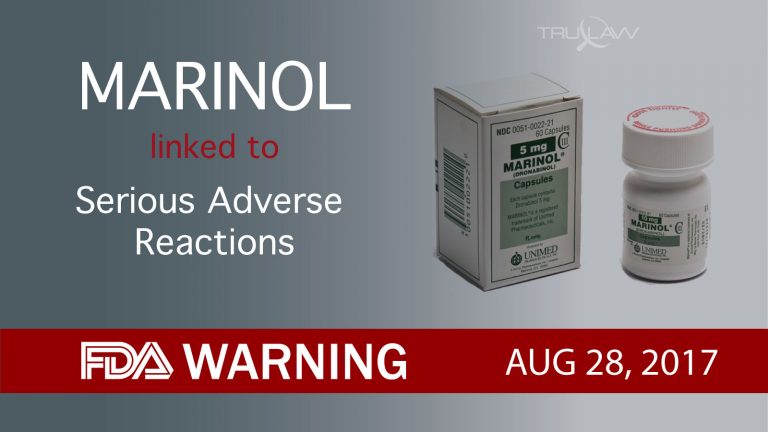 The U.S. Food and Drug Administration (FDA) approved Marinol (dronabinol) on May 31, 1985, for the treatment of anorexia nervosa associated with weight loss in patients with AIDS, and chemotherapy-induced nausea and vomiting (CINV).
Marinol is manufactured by Unimed Pharmaceuticals, a subsidiary of Solvay Pharmaceuticals, and is usually prescribed when other drugs used to control nausea and vomiting have been unsuccessful. Dronabinol (also known as THC) is a man-made form of the active natural substance present in marijuana.
Marinol Label Changes
On August 28, the FDA approved labeling changes for Marinol. The label was updated to include the following new risks to the Warnings and Precautions section:
Sedation
Dehydration
Electrolyte imbalance
The Warnings and Precautions section of the label was completely reorganized, and five new subsections were added:
Neuropsychiatric Adverse Reactions, which consolidated information from the prior warnings section with a number of other portions of the label.
Hemodynamic Instability, previously listed in the precautions section of the label.
Seizures, updated to include anti-epileptic medication as a factor in lowering the seizure threshold for Marinol patients.
Multiple Substance Abuse, including additional warnings of substance abuse, and recommends that patients with a history of substance abuse should be monitored while taking Marinol.
Paradoxical nausea, vomiting, or abdominal pain, including dehydration and electrolyte abnormalities.
New risks were also added to the Adverse Reactions – Postmarketing Experience section, including:
Fall
Disorientation
Lip swelling
Urticaria
Rash
Oral Lesions
Skin burning sensation
Throat tightness
Delirium
Insomnia
Panic attack
Movement disorder
Despite the label changes, TruLaw is still monitoring Marinol for some serious adverse events that have been reported to the FDA but are not currently listed in the drug's current prescribing information, including myocardial infarction (seven cases), pancreatitis (four cases), oesophageal carcinoma (two cases), haemorrhagic stroke (two cases), and lung infection (two cases).