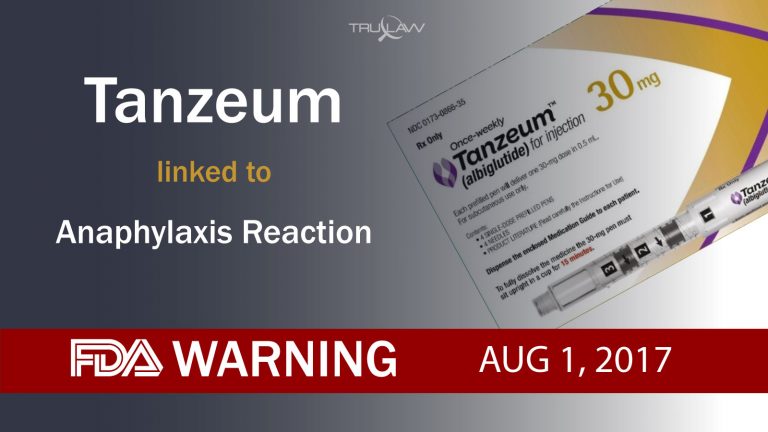 Tanzeum
Tanzeum (albiglutide) is an injectable diabetes medication that was approved by the U.S. Food and Drug Administration (FDA) in 2014. A glucagon-like peptide (GLP-1) receptor agonist, Tanzeum is used, along with diet and exercise, to help control blood sugar levels in those with type 2 diabetes, and is typically prescribed after other diabetes medications have been unsuccessful.
On August 1st, the FDA added the risk of anaphylactic reaction to the medication's label.
An anaphylactic reaction is a severe, potentially life-threatening allergic reaction that requires a medical diagnosis.  According to the Merck Manual, Anaphylactic reactions
Often begin with a feeling of uneasiness, followed by tingling sensations and dizziness.
People then rapidly develop severe symptoms, including generalize itching and hives, swelling, wheezing and difficulty breathing, fainting and/or other allergy symptoms.
These reactions can quickly become life threatening.
In addition to the change in label for Tanzeum for Anaphylactic reaction, another Glucagon-like Peptide-1 (GLP-1) Agonist class drug, Trulicity, was recently updated with similar anaphylactic risks.  All other drugs in the GLP-1 agonist class had anaphylactic reaction warnings on their label prior to these two alerts.
Tanzeum Discontinued
On July 26, 2017, GlaxoSmithKline announced that the company is discontinuing the manufacturing and sale of Tanzeum due to limited prescribing of the drug and declining sales, despite the fact that it was priced lower than its rivals, Eli Lilly's Trulicity and Novo's Victoza.
According to a GSK press release, they will continue to invest in a small marketing effort, but due to a decline in sales, "it has been harder and harder to make the type of impact we would want for patients."
The drug maker is suggesting that medical professionals transition patients currently on Tanzeum to an alternative therapy before July 2018, when the medication will no longer be commercially available, and not to start Tanzeum on any new patients.
FDA Box Warning
In March 2015, the FDA announced that it would be requiring Tanzeum to carry a boxed warning that thyroid C-cell tumors have been observed in rodents using GLP-1 receptor agonists at clinically relevant exposures; however, it is unknown whether Tanzeum causes thyroid C-cell tumors, including medullary thyroid carcinoma (MTC), in humans.  This medication is not recommended for use in patients with a personal or family history of MTC, in patients with multiple endocrine neoplasia syndrome type 2, or for patients with a history of serious hypersensitivity to the medication or any of its components.
The FDA's initial approval of Tanzeum carries with it several limitations, including:
The medication is not recommended as first-line therapy for patients inadequately controlled on diet and exercise.
It has not been studied in patients with a history of pancreatitis.
It is not for the treatment of type 1 diabetes mellitus or diabetic ketoacidosis.
It is not recommended for patients with pre-existing gastrointestinal disease.
Other labeled serious risks associated with Tanzeum use include pancreatitis, acute kidney injury, renal impairment, and pneumonia.
Despite the boxed warning and label changes, TruLaw is still monitoring Tanzeum for some serious adverse events that have been reported to the FDA but are not currently listed in the drug's current prescribing information, including Meniere's disease.