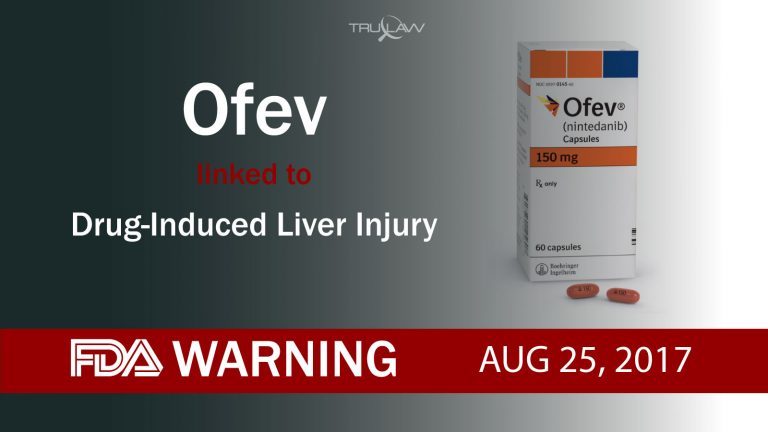 The U.S. Food and Drug Administration (FDA) approved Ofev (nintedanib) capsules for the treatment of idiopathic pulmonary fibrosis (IPF) on October 15, 2014.
IPF is a rare and fatal lung disease that affects as many as 132,000 patients in the U.S.  Pulmonary fibrosis is a disease in which tissue deep in the lungs becomes thick over time.  The formation of scar tissue is called fibrosis.  When the lung tissue thickens, oxygen is unable to move properly into the bloodstream, often leading to death.  Doctors can generally determine the cause of fibrosis, but in cases where there is no known cause, they refer to the disease as "idiopathic" pulmonary fibrosis.
In October 2014, two drugs were approved to treat individuals suffering from idiopathic pulmonary fibrosis – Ofev (nintedanib) and Esbriet (pirfenidone). At the time these drugs were approved, researchers noted that they don't understand exactly how Ofev and Esbriet work in the body against IPF, but the drugs seem to inhibit important pathways to help prevent scarring. Ofev and Esbriet were not curing IPF, but studies showed that they slowed the progression of the disease.
Ofev Drug-Induced Liver Injury
In August 2017, the FDA identified cases of drug-induced liver injury with use of Ofev (nintedanib). Drug-induced liver injury has been reported to the FDA's Adverse Event Reporting System (FAERS) 26 times by Ofev patients, with five cases resulting in death, 12 in hospitalization, one in disability, and one was described as life-threatening.
In addition to drug-induced liver injury, post-marketing reports link Ofev to hyperbilirubinemia and jaundice. Hyperbilirubinemia is a condition in which there is too much bilirubin in the blood, which is the substance that is formed when red blood cells break down. Jaundice is the yellowish discoloration of the skin that results when there is too much bilirubin in the blood. According to the FDA, two Ofev patients reported hyperbilirubinemia, with one case resulting in death.  Jaundice has been reported eight times by Ofev patients, with two cases resulting in death and four in hospitalization.
Since adverse event reporting is voluntary, it is not always possible to reliably estimate the frequency of these injuries. TruLaw encourages all individuals to report adverse events to the FDA as they occur.
FDA Label Changes
On August 4, 2017, labeling changes were approved by the FDA Center for Drug Evaluation and Research.  The Warnings and Precautions section of the Ofev label was updated to include the new risks of liver-induced injury, hyperbilirubinemia, jaundice, and the drug-induced liver injury was added to the Adverse Reactions Postmarketing section.
Prior to the liver and bilirubin label changes, the FDA approved a change to the Ofev label in February. At that time, the FDA identified two adverse reactions – pancreatitis and thrombocytopenia – as being associated with Ofev use, along with non-serious as well as serious bleeding events observed in the postmarketing period.
In addition to the newly identified adverse events, Ofev has been identified as having the following common side effects. Patients experiencing any of these side effects may want to have a conversation with their medical professional – diarrhea, nausea, stomach or abdominal pain, vomiting, liver problems, liver enzyme elevation, decreased appetite, headache, weight loss, and high blood pressure. Women should not become pregnant while taking Ofev, as it can cause birth defects or death to an unborn baby.
In addition, TruLaw is still monitoring Ofev for some serious adverse events that have been reported to the FDA but are not currently listed in the drug's current prescribing information, including:
Febrile neutropenia
Dyspnoea at rest
Neutropenia sepsis
Clostridium difficile infection
Respiratory tract infection
Diverticulitis
Acute respiratory failure
Respiratory failure
Pulmonary hypertension
Hypoxia
Cor pulmonale
Optic ischaemic neuropathy
Neutropenia
Sudden death
Acute respiratory distress syndrome
Pancreatitis
Transient ischaemic attack
Sepsis
Cardiac failure
Cerebral infarction
Atrial fibrillation
Angina pectoris
Leukopenia
Cardiac failure congestive
Nephrolithiasis
If you experience any other side effects or adverse events while taking Ofev, please report to the FDA using their voluntary reporting system and let us know so that we can continue to monitor it and get the word out to the public.