JUUL lawsuit lawyer allege that the manufacturer of the vaping device, Juul Labs, engaged in advertising campaigns aimed at young teens as well as claiming that their e-cigarette device is safe to use.  Juul lawsuits are being filed on behalf of individuals addicted to nicotine as well as those experiencing the symptoms of vaping lung.
Juul Teen Addiction
Evidence shows that the JUUL device contains significantly more nicotine than regular cigarettes and pose a high risk for nicotine addiction, especially for teen users.
The lawsuit's intent is to hold the manufacturer accountable for the misrepresentation of the safety of their device and the targeting of teens in their marketing.
Juul lawsuits continue to be filed on behalf of teens and their families claiming the device caused them to become addicted to nicotine, and if they had known the amount of nicotine that the JUUL contained, they would not have started using it.
We anticipate in the coming years that many more people will come forward due to the potential detrimental effects vaping can have on teen health.  While we hope we are wrong about this, and that no more lawsuits are filed, it is important now for parents and teens to talk about vaping facts in order to try and curb this growing epidemic.
If you are the parent of a child who has become addicted to nicotine after using the Juul, you may be eligible to file a JUUL lawsuit against the manufacturer of the vaping device, Juul Labs.
What Is JUUL?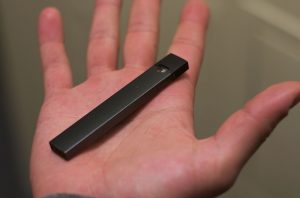 The JUUL is an e-cigarette that is shaped like a USB flash drive.  It works by heating up a cartridge that contains oils to create vapor and that vapor quickly dissolves into the air.
What Ingredients Are In JUUL Pods?
The ingredients in the Juul vape pen (that we know of) include nicotine, glycerol and propylene glycol, benzoic acid and the flavorants.
This e-cigarette device is particularly worrisome because of how popular it has become in only three short years and the heavy dose of nicotine a single Juul pod delivers.  According to a study conducted by the JUUL itself shows that their e-cigarette
Juul Labs has controlled as much as 70% of the e-cigarette market in the U.S. and the company is valued at 15 billion.
Juul Labs claims that the device is meant to help adults quit traditional cigarettes, but the appealing flavors like mango, fruit medley, and creme brulee have appealed heavily to teenagers.
The Juul is being used in classrooms, bathrooms, and buses all over the country has now become one of the greatest threats to teen health.
This e-cigarette has become so popular that kids have actually started to use the word as a verb — referring to the act of vaping as "juuling".   Juul hasthags trend on Twitter and Instagram and teens continue to see Juul in their feed, reminding them that vaping is part of their everyday life.
Does JUUL Have Nicotine?
Yes.  The amount of nicotine in a single JUUL cartridge is actually quite alarming.  One pod is equal to an entire pack of cigarettes or approximately 200 puffs of a traditional cigarette.
This is one of the real problems with e-cigarettes.  Nicotine is so addictive and has such serious negative impacts on teen brain development.  It, in fact, can alter brain function.
Unfortunately, we don't yet fully know the health impacts of long-term vaping.  It's going to take kids regularly use e-cigarettes to understand what long-term exposure does to their health and brain function.
Teens who vape regularly now are risking a life-long habit.
Was JUUL's Social Media Marketing Aimed At Teens?
Lawsuits are claiming that Juul targeted youth from the get-go and the proof resides in their easy to pass age-verification technique and social media marketing campaigns that really show the company's original intent — targeting teens under the legal smoking age.
Juul's e-mail technique is attached to its screening process.  The website requests all visitor's birthdays and the last four digits of a social security number.  If the person is too young the site denies access, but the person is added to Juul's e-mail list-serve.   This underage visitor now starts receiving promotional campaigns for different flavors and discounts on all the kits.  Why would Juul add underage kids to their e-mail lists when they know for a fact they're under the smoking age?
When the company launched in 2015 they decided to throw "a really great party" instead of using conventional marketing.  At the inaugural Juul party, guests were asked to take photos of themselves with the Juul device and post them on their personal social media accounts using the hashtag #LightsCameraVapor.  The Juul Labs twitter account also sent out a tweet on June 4, 2015, featuring five young women who look like they are having a great time at the party, each posing with a JUUL device.
Juul's launch campaign, Vaporized, threw at least 25 of these parties and events across the country.
Social media influencers were also hired by an influencer company called Lumanu, to post about their experience with the JUUL device.  One influencer in particular named Christina Zayas stated, "They liked my edgy style and that I appealed to the younger market."   This was the reason they reached out to her.
It can be argued that the company didn't intentionally target underage kids, but the appeal to kids was obvious from the very beginning and the company didn't take steps to prevent it from continuing.
Is Your Teen Vaping?
From 2015 to 2017 Juul put out a series of ads featuring young men and women on YouTube and billboards.   Some of the models for these ads look like they could be as young as 18 years old.
This sort of JUUL social media marketing operated under the radar for a very long time.
Teens who use the device have taken to Youtube and Instagram to show off "juuling" with their friends.  The boom in popularity among youth may have something to do the age-old trend of kids doing something because they see all their friends doing it. Search #doit4Juul or #Juulnation on Instagram and you'll see all the proof you need.
The company's current social media marketing strategy is nowhere near what it was like in the beginning.  The Stanford Research into the Impact of Tobacco Advertising has archived all of the promotional materials Juul Labs created and many of these ads showed 20-something models fashionably dressed emphasizing fruity flavors.
Dr. Robert Jackler, the founder of the Stanford Research into the Impact of Tobacco Advertising, said to CNN, "the company professed over and over that they weren't interested in targeting underage people, when in fact their way of promoting their product had great appeal to young people and caused a market fervor."
He also said, "it's a good thing that the company has cut down its social media in the US.  However, it's very late in the game."
JUUL Issued FDA Warning Letter
September 12, 2018 – The FDA issued a warning to Juul, the most popular vaping device on the market, and four other manufacturers of popular e-cigarettes including Vuse, Blu, MarkTen XL, and Logic giving them 60 days to submit in writing how they plan to keep their devices out of the hands of young people.
Vaping has now reached "epidemic proportions" and measures have to be taken in order to help stop the number of teens vaping on a regular basis.   It may be true that there are far fewer chemicals in e-cigarettes than regular cigarettes, but the nicotine in the devices is present in much larger amounts.  Nicotine can be very damaging to the developing brain.
The FDA also said that it will take measures to stop youth access to these devices.    Juul responded with support for this warning stating that the company wants to be part of the solution in keeping these devices out of the hands of kids.
Surgeon General Warns Youth Vaping Is An 'Epidemic'
December 17, 2018 – U.S. Surgeon General Jerome Adams issued an unusual advisory in which he declares e-cigarette use among teenagers as officially reached epidemic levels.  He singles out JUUL in particular.
He said, "Now is the time to take action.  We need to protect our young people from all tobacco products, including e-cigarettes."
He is calling on parents and teachers to talk to kids about the dangers of vaping now so they can truly understand the dangers of nicotine on the developing brain.
He is calling on local authorities to put in place the banning of indoor vaping and retail restrictions in order to keep these devices out the hands of teenagers.
Juul Lawsuits 2019
Three individual Juul lawsuits have been filed against Juul Labs arguing that the company deceptively marketed their device as safe when it, in fact, contains more potent doses of nicotine than regular cigarettes.
The plaintiffs are seeking damages and an injunction to curb Juul's marketing practices to young people.
Two of the lawsuits have been filed in California on behalf of Bradley Colgate and Kaytlin McKnight who both claim the Juul device has intensified their nicotine addiction.
Another suit has been filed in San Francisco on behalf of Carl Cooper who is alleging the Juul actually made his nicotine addiction worse.  He started smoking in 2010, turned to the Juul vape to help him quit, but instead he became a daily smoker in only a couple weeks of weeks.  When he was smoking tradition cigarettes he never felt the need to smoke every day, but since switching over to vaping he gets agitated if he doesn't get daily doses of nicotine salts from the Juul.
Is There A Juul Class Action Lawsuit?
There is a Juul class action in Florida and California that claim the company tailors its advertising to appeal to the nation's youth and hid the high amount of nicotine that the Juul vape dispenses with a single Juulpod
There are already at least ten plaintiffs in the suit — some as young as 14 years old.  They claim that Juul caused their nicotine addiction because of how much more potent the Juul vape is compared to a traditional cigarette as well as the speed at which nicotine enters the bloodstream.   Plaintiffs believe this fact should have been revealed to the public by the manufacturer.
Plaintiffs allege that if they had known how much more nicotine the Juul contains as compared to regular cigarettes they never would have started using the device.
Can I File A Juul Lawsuit?
If you are the parent of a child who has become addicted to nicotine as a result of using the Juul e-cigarette fill out the form on this page to discover if you qualify for a Juul lawsuit.  This is completely free and there is no obligation to sign with TruLaw.